Free iWork Is Great But it Isn't Microsoft Office
When Apple announced that its new iWork suite of productivity apps would receive pretty hefty updates, watchers in the crowd rejoiced.
Here are the modern suite of applications that users needed to get work job done. At long last Pages, Keynotes and Numbers can effortlessly sync using Apple's iCloud service. Here are the design alterations that would bridge the design aesthetic of iOS 7 and OS X Mavericks. Then Apple announced that it would give the updated applications away for free to users purchasing no Macs.
Those were are all great things, and I don't personally mean to throw cold water on the launch of the new iWorks suite of applications. However, it's still just iWork.
Let me explain: iWork began as an answer to Microsoft's nearly ubiquitous dominance of desktop productivity. Microsoft Office's Word, PowerPoint, and Excel are the gold standard by which other productivity applications are measured for many people. For starters, the suite of apps are feature leaden. Chances are that if it's a widely requested feature, that feature has already made it to Microsoft Office. Since iWork's introduction, Microsoft has only continued to add features and every year the gap grows. For example, Microsoft's Office 2013 arrived with cloud syncing last year on PC.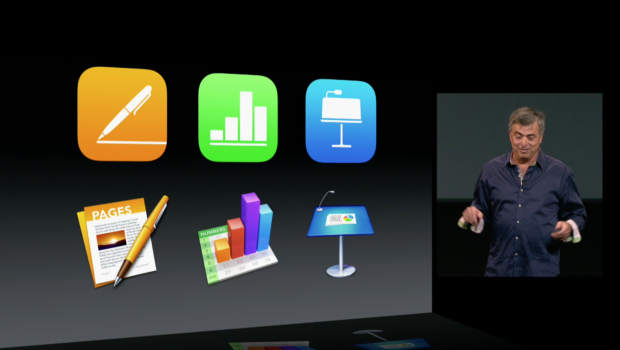 Read: Apple Goes Big and Free With largest iWork Overhaul in History
As Microsoft Office is available on most platforms, chances are that users can take their work with them no matter what device they are on. If a user has a Mac they can install Office and then have those files sync to SkyDrive storage for use on a Windows PC, Android device, or the Office Web App. iWork is freely available on Apple's platforms, but outside of that area native availability is dicey at best. Who wants to take a chance on their presentation not formatting correctly on their work PC just before a presentation? As Apple requires that those attempting to use iCloud have an Apple device, users can't count on everyone they interact with having access to iCloud to open documents with iWork-specific formatting.
Apple's relentless pursuit of Microsoft Office is admirable, but let's not trick ourselves into believing that iWork is on par with the world's most widely used suite of productivity applications. Microsoft Office is everywhere. It's on Windows tablets, available online free and available on the iPhone and Android devices for a low monthly fee. Apple's close, but it's still not there yet.

As an Amazon Associate I earn from qualifying purchases.