Free Madden 15 Deal Arrives
There is a new free Madden 15 deal that includes one copy of Madden 15 on Xbox One, PS4, PS3 or Xbox 360 when you subscribe to Sports Illustrated.
Even though you need to pay for a subscription to Sports Illustrated you still save $10 off the retail price of Madden 15 and get six months of Sports Illustrated as well.
This is the best Madden 15 deal we've seen yet, beating out the trade-=in deals from before the Madden 15 release, as long as you want a Sports Illustrated subscription.
The free Madden 15 deal includes your choice of console and it arrives in four to eight weeks, so you'll need to wait a bit to play. The first issue of Sports Illustrated arrives in one to three weeks.
Click here to sign up for 6 months of Sports Illustrated and get the free Madden 15 deal.
Madden 15 is a new version of the popular, and only NFL football game for PS4, Xbox One, PS3 and Xbox 360. The game retails for $59.99 at Amazon and other retailers. This is a full version of the game with no limits to what you can do or modes you can play.
One catch to this free Madden 15 deal is Sports Illustrated will automatically bill your credit card for a new subscription after this one ends. If you want to stop this you need to cancel. You can cancel at any time, so be sure to set a reminder or call to see if you can turn off auto renewal right after you get your first issue.
Read: Madden 15 Tips & Tricks
With this free Madden 15 deal you get six months of Sports Illustrated, which is 28 issues. You also get a digital Sports Illustrated subscription on tablets, smartphones and on your computer so you can read it anywhere.
The six month Sports Illustrated subscription is $48.95 payable when you sign up for the free copy of Madden 15. You can also call 1 (800) 348-6363 to place an order over the phone if you prefer to do that. You cannot cancel the Sports Illustrated subscription for a refund unless you return the game unopened.
Although this deal includes a free copy of Madden 15, it's not the best overall deal for Sports Illustrated. You can get a year subscription for $39 including NFL team bonuses without the free game. If you want a Madden 15 deal, go with this offer, but if you only want a Sports Illustrated subscription you should pass on this promotion.
Read: Madden 15 Review
Madden 15 is a fun new version of the football game and it is worth buying for most users, even those who already own Madden 25. EA delivers better graphics, new gameplay features and a major update tot he Madden 15 Ultimate Team mode that makes it much easier to manage your team.
Gameplay now includes more realistic quarterback ratings that mean missed passes just like in real life, better overall play calling and smarter running options.
Top PS4 Games to Buy in 2014
Call of Duty Advanced Warfare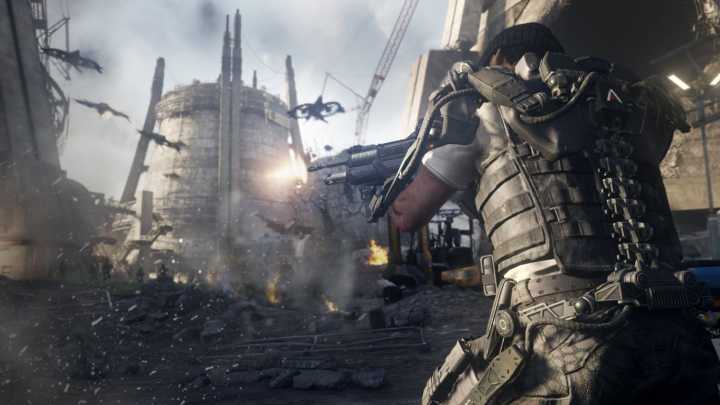 PS4 Call of Duty Advanced Warfare Details:

Call of Duty Advanced Warfare Release Date: 11/4/14
Pre-Order Bonus: Brass exoskeleton, EMP Weapon
Special Editions: Yes
Exclusive: No

Call of Duty Advanced Warfare is one of the top PS4 games to buy in 2014 not only becuase it is a new Call of Duty game, but because it is ready for a PS4 lacking fun shooters.

Yest it arrives into a fall filled with Destiny, but Killzone didn't live up to the excitement and there is no Titanfall for PS4.

Instead gamers get this Kevin Spacey filled Call of Duty Advanced Warfare release that delivers a super soldier with smart weapons and access to technology like never before including drones and hoverbikes.

Call of Duty Advanced Warfare Gameplay Video