Free Office for Android Arrives With Better Everything
Microsoft Office, the suite that allows millions of users to create documents, edit presentations and keep track of their lives, has a huge new update that finally lets owners of devices running Google's Android operating system get a best-in-class experience.
Microsoft announced the free Microsoft Office for Android update in a post this week on its Office Blog. The update comes roughly a year and half after Microsoft began revamping the different parts of Microsoft Office in incremental steps. Microsoft says the updated Office for Android apps are in preview mode, meaning they're not finished, but ready for any feedback that Android owners would like to offer.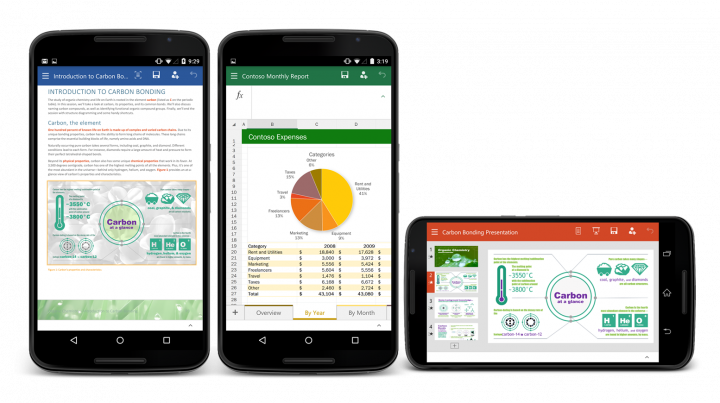 Android users who want the free apps have to sign up to become a Microsoft Office tester inside the Office for Android community. After that users will get a link inviting them to download the apps from the Google Play Store.
The free update bring with it the biggest design revamp we've seen for Office for Android in some time. Each of the three apps has a colored navigation bar that sits at the top of user's screens, giving them a quick way to tell which app they in. That mirrors what Microsoft is doing on other devices like the iPad, iPhone and its own Windows 10 operating system.
Microsoft loosened restrictions on the subscription that it required smartphone and tablet owners have to use Office for Android some time ago. This release makes that official, meaning users can finally create and edit presentations and more without paying a dime. Besides storing documents on the phone itself, this free Office for Android update adds new ways to get documents. Dropbox, Sharepoint, Box and OneDrive are among the options available to Android owners. The apps also support Android's native option for storing content in the cloud, Google Drive.
There's built in support for sharing documents created with the new Office for Android apps with others. Sending users a document through the apps is as simple as emailing a link. Someone editing a document can add comments about why they wanted to make change too.
Because these new free Microsoft Office for Android apps are available doesn't mean the older apps are necessarily going away. Office for Android is sticking around while Microsoft gets feedback from the people who download today's update. Once these new apps are ready Microsoft could discontinue the older app. The company says it has plans to share more transition details "later this year."
Only Word, Excel and PowerPoint are included in this new free Microsoft Office for Android update. Strictly speaking, Microsoft seems to have moved the Outlook app out of its Office suite of productivity apps. It's been available separately for some time.
With this new Microsoft Office for Android update almost in place Microsoft is close to having all the pieces in place for Office to be a success. Just two years ago, Microsoft was believed to have irreversibly botched Microsoft Office's move to mobile devices. After scoring an early win with Office Online, the company released a basic version of Office for Android that still required users to login with an Office 365 account, which cost $99.99 at release. Since then it's made its OneNote note-taking application almost completely free on all devices and introduced Office apps that run on both Android tablets and the iPad.
The only remaining pieces in the company's strategy happen to involve its own Windows and Windows Phone operating systems. Most believed that Microsoft was holding off on developing Office apps for iPhone and Android as a way to boost the profile of its own Windows and Windows Phone operating systems. The company has yet to release a final version of their Office for Windows 10 apps. Presumably, those will launch with the operating system sometime later this summer.

This article may contain affiliate links. Click here for more details.