Free Splatoon for Wii U Arrives for One Weekend Only
With the Splatoon release set for later this month, video game maker Nintendo is giving gamers any and every opportunity to find out everything they need to know about the new multiplayer shooter. This morning Nintendo announced a free Splatoon demo for anyone who owns one of its Wii U consoles.
Nintendo revealed the free Splatoon demo during a dedicated Nintendo Direct video stream this morning. Nintendo uses these Direct video streams to get its message directly to owners of its Nintendo 3DS and Nintendo Wii U gaming consoles. Those excited for today's Nintendo Direct expected the company to share more information about Splatoon but weren't expecting anything related to early access.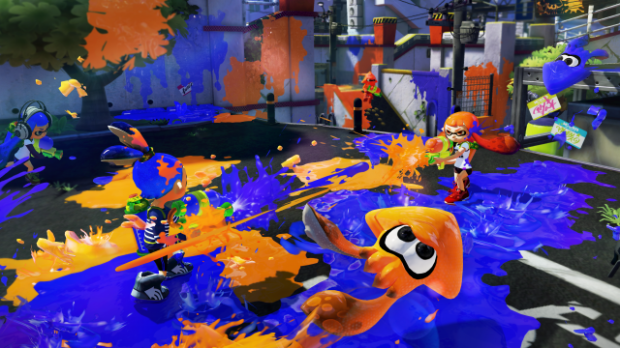 Beginning tomorrow, May 8th at 11PM Eastern Time tomorrow, Nintendo will switch on its servers for completely free Splatoon multiplayer access. Nintendo will run two other sessions, giving users early access to Splatoon on Saturday, May 9th at 7AM Eastern Standard Time and again at 3PM Eastern Standard Time. To be clear, Nintendo doesn't have plans to keep the free game demo running indefinitely. The sessions will only last an hour from their start time. That's pretty odd when compared to other video game betas, which usually last for a couple days at minimum. It's worth noting that Nintendo very rarely makes their games available for early access.
Read: Surprise Splatoon Wii U Bundle Release Details Arrive
With testing windows that narrow, is a good idea to download Splatoon ahead of time. Nintendo is doing its part by making the digital download for Splatoon available in the eShop for the Wii U today. Every Wii U user should be able to download the game today, ahead of this weekend's testing sessions.
Splatoon isn't a typical Nintendo game. Wii U players are dropped in an arena and tasked with dominating their opponents. In that way, the game is similar to other online shooting games set in an arena. Splatoon players aren't soldiers though. They aren't shooting bullets either. Instead, you play the game as a brightly colored squid with an ink gun. The more you cover the arena in your team's colored ink the closer you come to winning. When shooting, squids look almost human in the game. They can transform too, making it possible to use the ink they've spread around the level as a method of transportation. Nintendo stunned the world with video footage of Splatoon's online multiplayer during a video stream during last year's Electronic Entertainment Expo.
Making these free Splatoon testing sessions available isn't just about building hype for the game, though that certainly has to be a factor in it. Splatoon is unique amongst Nintendo games in that it's specifically built for multiplayer experiences. Both Microsoft and Sony make these types of games regularly, but Nintendo doesn't routinely launch games build entirely around multiplayer. Early testing gives the company time to make sure that there are no Splatoon problems at launch. A successful launch of Splatoon could mean a big sales bump going into the summer gaming season as parents have their children at home and are looking for something to help them stay occupied beyond summer camps, web browsing and television watching.
During today's video broadcast Nintendo made a number of other Splatoon related announcements. Like other first-person shooters, Nintendo plans on rolling out new maps and content as the game ages. Already there are five new maps planned for release sometime this summer. Nintendo plans on revealing new game modes and weapons for Splatoon after release too. The game doesn't take your friends into account with matching up teams, but that is something that will be added in an update.
Nintendo is also rethinking the way it approaches online community for Splatoon. Periodically the company plans on holding what it calls Splatfests. Users choose a side of an issue and go head-to-head online to see who wins. The first of these Splatfests is coming June 20th and it'll have a cats vs. dogs theme.

As an Amazon Associate I earn from qualifying purchases.