FreedomPop LTE Clip To Bring 4G LTE To Wi-Fi Tablets
FreedomPop will soon release a new device called the LTE Clip to bring free 4G LTE to Wi-Fi only tablets according to a Forbes report.
As the name implies, the FreedomPop LTE Clip will clip on most tablets to give them access to 4G LTE. Like other FreedomPop devices, the LTE Clip will offer users 500MB of free data per month, with paid plans that offer more data.
To get more data users can also let others connect to their FreedomPop LTE Clip. By sharing their connection with others users get credit for more free 4G LTE data (or 3G if outside a 4G LTE area). The LTE Clip creates a separate Wi-Fi network for others so users don't have to worry about strangers using their connection.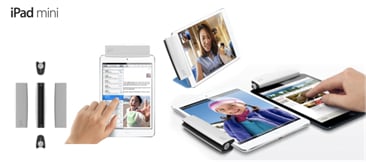 The FreedomPop LTE Clip will let users connect up to eight devices for Internet access. So while the device will clip to tablets, it's also useful for laptops or other mobile devices that only have Wi-Fi radios.
Like other FreedomPop devices, the LTE Clip uses Sprint's network. That means 4G LTE data is only available in a small number of markets. Sprint is working hard to increase its number of 4G LTE markets, however.
With the 500MB of free connection and data sharing FreedomPop claims that only 30 percent of its users pay for premium service. For many users 500MB of data a month is enough for a mobile device. That may change with the company's first tablet device, however.
FreedomPop's current device offers free 3G data to iPod touch users, and it's easy to imagine tablet users using more data than iPod touch users.
There is no price FreedomPop LTE Clip yet. Forbes claims the LTE Clip will come to market sometime in the second half of 2013, which gives the company plenty of time to announce a price, and Sprint plenty of time to build up its 4G LTE.

As an Amazon Associate I earn from qualifying purchases.