Freescale unveils their $199 tablet design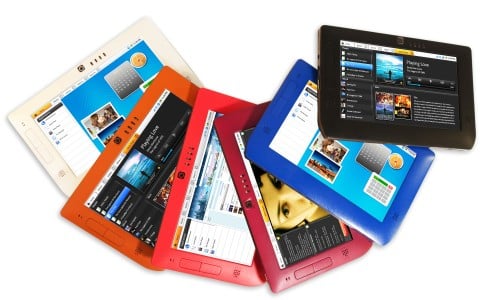 Good news, everyone: Freescale has announced a new tablet reference design for the burgeoning (and I use that term lightly) smartbook market. It is, being a design from Freescale, an ARM-based unit, boasting instant-on functionality, persistent connectivity and all-day battery life. Priced at $199, which presumably is for the base design; better features and vendor markups should send the price higher. Still, you can't ask for a starting price point much lower than that.
It will be demoed at CES with both Android and Linux operating systems, so we'll see if we can't give it a good shake down then. Just eyeballing it, I get the sense the bezel is a bit wide for good thumb manipulation when held by two hands, while also intended to be used primarily in landscape mode. However, the light weight and thinness could make it less awkward than I anticipate. Fanless design is a big winner for me, as is the USB charging. I could go for that dark red one. Also featured is an optional keyboard dock, which makes the design a bit of a hybrid, but it looks a tad inflexible. Specs after the jump.
Size: small/thin form factor (200mm x 128mm x 14.9cm and weighing 376 grams); no need for fan or heat sink
Processor: Freescale i.MX515 applications processor provides high performance and low power
ARM Cortex-A8 core
OpenVG & OpenGL/ES graphics cores
HD video decoder hardware
Power management IC:
Battery charging system for both USB and wall charging
Output buck converters for the processor core and memory
Boost converters for LCD backlighting
Serial backlight drivers for displays and keypad, plus RGB LED drivers
Display: 7-inch (1024 x 600) touch screen
Memory: 512 MB DDR2
Storage: 4-64 GB internal storage; removable micro SD
Connectivity: 3G modem (option) 802.11 b/g/n, Bluetooth 2.1, GPS, RF4CE (option
Ports: USB 2.0 and USB mini (also for charging), audio in/audio out, SIM card
Audio: speaker, microphone
Camera: 3 Mpixel (video recording up to VGA @ 30fps)
Battery: 1900mAh, USB charging
Sensors: MMA8450Q 3-axis accelerometer and an ambient light sensor

As an Amazon Associate I earn from qualifying purchases.