Freescale's picking their 2011 Smart Mobile Device Pundits – Help Warner Make the List!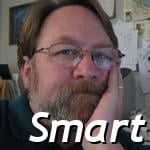 End of the year means it's time to fill out of those "Best of" lists, and Freescale is back at it with their hunt for the top 20 Smart Mobile Device Pundits of 2011. Back in the running is your friend and ours, 2010 "SmartPundit", Warner Crocker. Will he make the cut? It's up to you!
Starting now through the end of the year, Freescale is looking for your nominations for the "must-read, front-line informants – media, analysts and bloggers alike – following the breaking news, reviews and points of views we care most about." The Top 20 will be announced at CES on Friday, January 7, 2011. To help you pick, they've re-posted last year's list and offered some additional suggestions.
Great list of people they've chosen and suggested, including many of our friends and folks we follow. Changes in peoples' status since last year should lead to some changes in the next list, but I hope you agree Warner should stay on it and demonstrate your support with your nominations. He's been working as hard as ever to share news and offer his insights, holding his ground as a stalwart of mobile computing. Whether you agree or not, please pop over to Freescale's nomination site and cast your vote.

As an Amazon Associate I earn from qualifying purchases.