FreeStyle Features VIA Nano: Outperforms Atom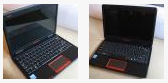 Engadget is has a few sleek shots of the new FreeStyle Dr. Mobile Netbook which features the VIA Nano Processor, the popular Atom's new competition.   VIA contends that the Nano will outperform comparatively matched Intel Atom machines.   While the specs of this machine are nothing too different with what we've seen of current netbooks,   the design clearly shows that the netbook mold (screen size under 10 inches, cramped keyboard, small trackpad) is starting to change.   Can we expect to see underpowered, full-size notebooks later in the year?   Look for more details as GBM's CES coverage continues.
Details on the FreeStyle:
1.3 Ghz Via Nano Processor, VX800 Chipset (capable of running at 1.6 Ghz)
11.6-inch display, 1366 x 768 resolution
802.11b/g Wi-Fi
Bluetooth
Optional onboard mobile broadband
Expected price tag of $500 USD, possibly available in February
Click here for the hands-on FreeStyle photos.