Lenovo ThinkPad X1 Carbon, X1 Tablet & X1 Yoga Excite at CES 2017
Lenovo isn't just introducing new products designed to amaze at this year's Consumer Electronics Show in Las Vegas. It's also announcing a refresh of its entire ThinkPad X1 line. The ThinkPad X1 Tablet, ThinkPad X1 Carbon and ThinkPad X1 Yoga have all been upgraded with new processors, always-on connectivity and new ports for faster file transfers and more. All that, plus the company reducing the amount of clutter users need to remove from their system when getting set up.
Lenovo revealed the 2017 ThinkPad X1 family this week at the CES 2016. Many of the company's latest announcements focus around similar themes. It wants to help users stay productive with docks by introducing USB Type-C ports and accessories. It wants to ensure that everyone has access to Intel's new Kaby Lake processors, no matter their ideal form factor too. Finally, it hopes to provide everyone with a great Windows experience by severely limiting what it installs. The ThinkPad X1 Tablet, ThinkPad X1 Carbon and ThinkPad X1 Yoga keep the trend alive.
The ThinkPad X1 Carbon that Lenovo plans to begin selling this February for $1,349.99 is the thinnest X1 Carbon ever made. It measures 0.6-inches from top to bottom and comes in either silver or black. It weighs just 2.49 pounds. Every configuration will have a 7th Generation Intel Core i7 processor at its heart, with up to 16GB of RAM and a 1TB SSD backing it up. Intel Graphics 620 are featured too; there aren't any options for a discrete graphics card.
Every ThinkPad X1 Carbon will have a dTPM 2.0 switch for an easy encryption experience, 2 Thunderbolt 3 ports, 2 USB 3.0 ports, Ethernet, microSD and HDMI. They'll all come with 801.11 AC Wireless and Bluetooth 4.2.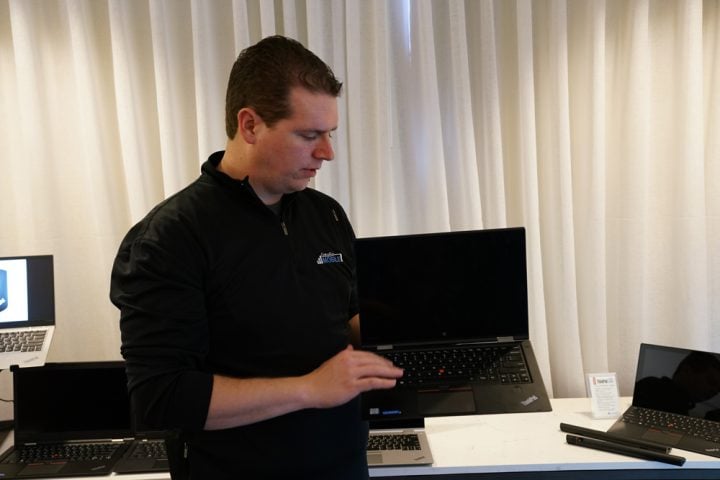 What really sets this new ThinkPad X1 Carbon apart from its predecessors are options and battery life. Lenovo maintains that this new notebook can go 15.5 hours in between charges. Lenovo is adding mobile internet connectivity so that anyone can access the internet wherever they are.
An infrared camera option lets users log into their PC by just gazing at it, though fingerprint readers are still an option too. An NFC chip for quickly sharing information is optional too, though we're not sure why it's being offered just yet. NFC technology allows for payments system like Apple Pay and Bluetooth pairing. Finally, there are two display options to choose from, a 2560 x 1440 14-inch WQHD display and a FHD IPS 1920 x 1080 display.
Lenovo's ThinkPad X1 Yoga has all of those tricks plus some new ones up its sleeve. Because it can become a tablet, it has support for Lenovo's styluses. Unlike other offerings, it can recharge this pen inside a bay area in its body. The company is also promising vibrant colors with the ThinkPad X1 Yoga. It's getting an OLED display option that's capable of more contrast than screens built using other technologies.
Options in this model also include Intel Core I 7th Generation chips, 16GB of RAM and a 1TB SSD. Users can add a fingerprint reader, infrared camera for Windows Hello, Iris Plus Graphics G40 and NFC technology. Every model comes with 2 Thunderbolt 3 ports, 3 USB 3.0 ports, HDMI out, Ethernet, a MicroSD card slot and a microSIM card slot for the built-in LTE. Models with the 14-inch IPS 2560 x 1440 and 14-inch FHD IPS 1920 x 1080 displays will get 16 hours of battery life. Models with the OLED screen will get 10.5 hours, Lenovo says.
The Lenovo ThinkPad X1 Yoga will come with its pen in the box. As such, users won't have to spend much on accessories. It'll arrive in February and start at $1,499.
The ThinkPad X1 Tablet is the latest X1 form factor to debut. It can be a notebook replacement thanks to a companion keyboard, but it's a tablet with notebook internals first. Lenovo says that with some of its modules, the new ThinkPad X1 Tablet is able to last 15 hours on a single charge.
This new version uses 7th Generation Intel Core technology, 16GB of RAM, Intel HD Graphics 615. It can have up to 16GB of RAM and 1TB SSD storage. Because it's a tablet first, there are two cameras – a front-facing 2-megapixel sensor for voice chat and an 8-megapixel rear-facing camera for taking photos of the world around you. Unfortunately, there's no Infrared camera for Windows Hello. This device lacks Thunderbolt 3 technology. Instead, users have to rely on a slower USB Type-C port, a USB 3.0 port, mini Display Port and MicroSD card.
The ThinkPad X1 Tablet will support Bluetooth 3.2, WiGig wireless docking and LTE technology for mobile data. The 12-inch 2150 x 1440 IPS display can't be switched out. The stylus nor the ThinkPad X1 Keyboard cover are included in its $949 starting price. It arrives on store shelves this March.