Fretpen: A Stylus That Is Also a One-String Guitar
Ah, the stylus. We've seen smart styli. We've seen dumb styli. We've seen short ones, fat ones, skinny ones, and just about everything in between. But this is the first time I think we've seen a stylus that doubles as a musical instrument. Specifically a guitar. More specifically a one-string guitar. Yep. You read that right. A stylus that can double as a one-string guitar. It's called the Fretpen. Because, you know it has frets like a guitar. But not to fret. It's not out yet. In fact the Kickstarter campaign for the Fretpen doesn't start until April 22. But you can sign up for a notification to let you know when the music campaign starts.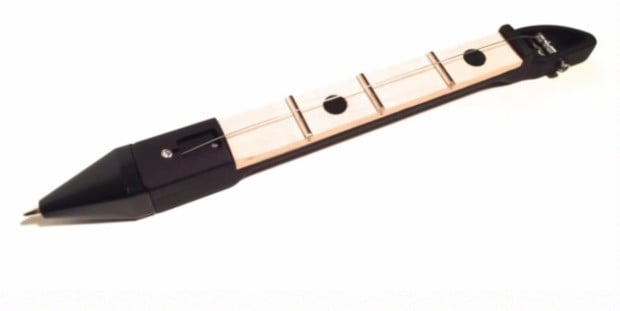 You might be thinking just how does a one-string guitar might work? (Or not.) Basically there's a D-Pad that allows you to switch strings on the fly. From the video you can tell that most of the work on the guitar side is done by software even though the fingers are involved.
And intriguingly there's nothing in the teaser video about actually using it as a stylus. A novelty? I'm thinking yes. But then we've seen quite a few novelty accessories that accompany our mobile gadgets. We've even seen quite a few novelty Apps as well, including some that make music. Remember Smule? That company turned into an intriguing success. Who says that Apps and add-ons have to be all about work or something serious. If you're writing your own verse why not use a stylus to scribble out the lyrics and then use that same stylus to create your tune?
There's no indication of what the Kickstarter bids will be, but if you've got a friend who loves to play a little guitar, (literally and figuratively) this might be a fun novelty item to watch to see if it gets funded.

This article may contain affiliate links. Click here for more details.