Friend-Me Concept from Nissan Coming to Shanghai
Friend-Me, a new concept from Nissan, will appear at this year's Auto Shanghai 2013 motor show. This vehicle is the first from Nissan to be developed by the branch's Chinese design house, and is targeted at youthful Chinese buyers who are looking for a vehicle.
The Friend-Me is interesting in that it claims to bring "Four seats, one mind connectivity" to the vehicle. What that means at this point is anyone's guess, but the Chinese market demands a lot of technological goodies in their automobiles. With smart phone sales exploding in China, it is logical to assume that however the Friend-Me links people together, it will link them via a smart phone. The Friend-Me is an extremely important concept because the technology in this vehicle will likely spread worldwide across all of Nissan's vehicles.
Nissan does offer a great deal of technology in their vehicles, but recently in the American market they have been focusing on convenience technology, and not stuff that is state of the art. A recent ad campaign featured the car sounding the horn when the air in the tires was filled properly.
What is known about the Friend-Me is that it will be an entirely new infotainment experience for Nissan, utilizing some sort of connection to each passenger in the vehicle. With Bluetooth connectivity available to practically everyone, it would be safe to assume that is how it will work. Nissan's in car entertainment is getting a little aged at this point, so the Friend-Me tech will probably become the basis of a new system across the board. One other thing that we know for sure is that if this vehicle links the passengers together, it would be one of the first implementations of such a concept in a production automobile.
What else do we know about the car? It is a small commuter car, designed for cities and urban areas. When it comes to American cars, Chinese buyers prefer long-wheelbase luxury vehicles (the same applies to the German vehicles), but home market vehicles and Japanese vehicles need to be smaller. The Friend-Me will most likely score high in the fuel economy and environmental area. Lower-emission vehicles are becoming increasingly important the Chinese market due to rampant air pollution.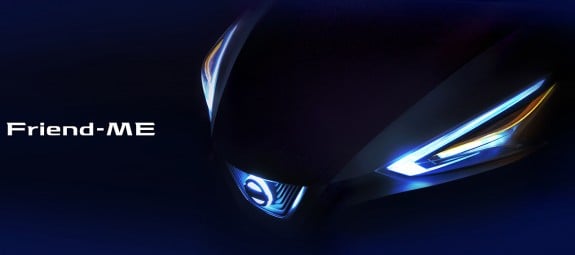 China has established themselves as a technology consumer (see the frenzy over the iPhone launch). Recently, several automobile and tech companies received a beating from the Chinese by not offering acceptable build quality for the Chinese market. Apple even apologized for poor warranty issues after a smear campaign in the Chinese media. Recently, [amazon_link id="B007Z9QXAA" target="_blank" container="" container_class="" ]Top Gear went to China[/amazon_link] to test drive vehicles, and were told by the locals that while they do not expect a super-fast or high-performance automobile, they do want the latest in technology. The Friend-Me seems like the vehicle to fit that bill from Nissan.
Many automakers are finding ways to keep the driver connected while on the road. BMW recently updated their apps suite, Ford announced more support for AppLink, and Volvo even announced their own in-vehicle app store. Staying socially connected is definitely not a fad, and the trend will surely continue into the newest line of automobiles from all the manufacturers. It will be interesting to see how Nissan builds on the "Four seats, one mind connectivity" concept to make everyone in the Friend-Me's social experience similar. We will find out when Nissan announces their lineup at Auto Shanghai 2013 on April 20th.

As an Amazon Associate I earn from qualifying purchases.