Friendcaster is My New Favorite Facebook App for Android
Facebook for Android is better than the iPhone app, but it still falls flat on my Galaxy Nexus.
That's where Friendcaster, a premium Facebook app for Android, comes in.
After just a day of Friendcaster on Android I'm ready to uninstall the official Facebook app from my Android phone.
That's the sound of me saying goodbye to inexplicably long load times, faulty notifications and app crashes and saying hello to a themed, great looking Facebook app for Android.
In addition to overcoming the shortcomings of the official Facebook app for Android, Friendcaster offers everything you would expect and a better layout. Users can also customize the theme, to pick a color scheme that suites them.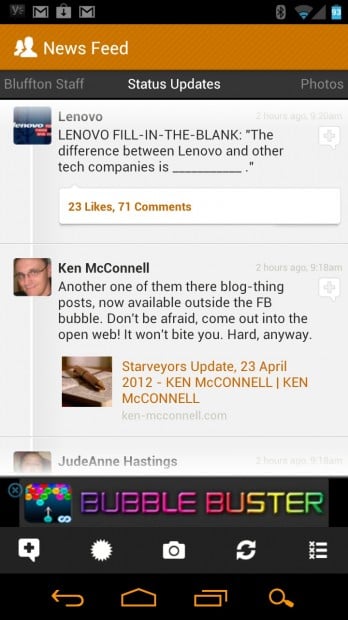 I love the ability to swipe left and right to view the news feed, links, photos and other lists in separate columns, which makes it easy to catch up on specific friend's updates or photos. This feature reminds me of the lists and columns I love in Plume for Twitter on Android.
The app allows users to post status updates, photo and check-ins as well as fast access to any pages users like or manage.
When posting a status update, the app does a better job than the basic Facebook app, allowing me to customize the message, link and name fo the link so my shared links look like they are posted from the Facebook website.
Friendcaster allows users to pick which permissions it has, so there's no need to give the app more access to a Facebook account than is comfortable.
Friendcaster comes in a free ad-supported version and a paid ($4.99) premium version with no ads and is available from Google Play.
There is an iPad Friendcaster app in the works, but there is no release date given.