Are You A Better Gamer Than Your Cat? Friskies Puts It To The Test With You vs Cat iPad App
Just as you were starting to get used to iPad apps made for babies and toddlers, Friskies goes and raises the bar. The cat food maker released an app today called You vs. Cat that allows you to play a game against your kitty.
Those of you out there thinking PFFT, I can beat the pants off any cat! should put your hubris in a box for a second. Because apparently famous gaming cat Buddy beat every human who played against him at the demo booth at SXSW.
Gameplay is deceptively simple. The human flicks virtual kitty treats toward your cat in an attempt to get it in the goal at the other end of the screen. If you get it in, you get 10 points. But if your cat catches the treat before it gets in the goal, she or he gets 10 points. Game ends when someone gets 50 points.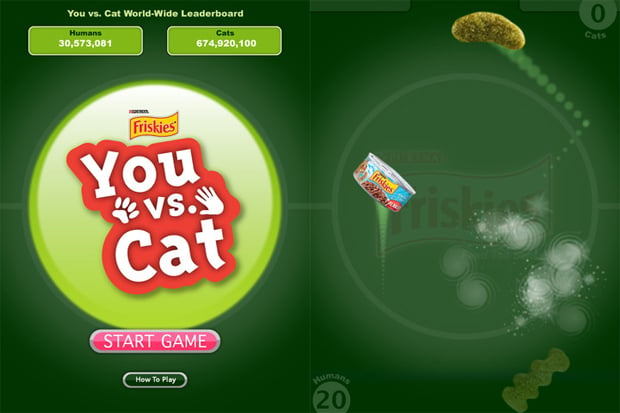 Given the gaming prowess on display in the videos below, somehow I think that cats are going to come out on top more often than humans. Especially with that new hi-res Retina Display on the iPad 3rd gen.
This isn't Friskies first foray into the gaming for cats realm. They've previously released some browser-based games aimed at felines. But this is the first time they've done something sure to bring about a cat uprising.
After all, once cats figure out they're better at us at gaming it's only a short step into the world envisioned by Neil Gaiman in A Dream of A Thousand Cats.
You can download You vs Cat for free in the app store if you dare.