Fuji X-E1 Review: A Retro Camera That Inspires
The Fuji X-E1 is a retro-inspired camera that borrows its good looks from rangefinder designs such as those from Leica. And not only does the X-E1 look good, it also has the imaging power to deliver some stunningly good images, a vast assortment of manual controls that inspires photographers to switch away from automatic shooting, and great handling handling. In fact, despite its small size and APS-C camera sensor, Fuji says that the custom X-Trans CMOS sensor in the camera is good enough to compete against larger full-frame sensors in professional DSLR bodies. Does the Fuji X-E1 live up to its hype to inspire photographers to master the art of photography?
Design
The Fuji X-E1 is Fuji's second interchangeable lens camera following the more expensive X-Pro 1. The camera has a magnesium alloy top and base plate that forms the rangefinder-style aesthetics. The rest of the body, unfortunately, is wielded from plastic construction, so you do get a solidly built camera that's at the same time a bit light and hollow-feeling. This isn't a bad thing as many people who move from a DSLR to a mirrorless system like the X-E1 do so to reduce the weight of their gear. And to show the solid construction, Fuji proudly displays its 'Made in Japan' heritage on the rear of the body.
As an enthusiast level camera, offers a lot of manual controls that really inspires the photographer to think before clicking. With an electronic aperture ring on the lens, a shutter speed dial and exposure compensation dial that's a bit recessed into the top plate to avoid accidental adjustments, the X-E1 will definitely help users move away from shooting in automatic or iAuto mode.
You also get a pop-up flash on the top, which is a tilting variety so you can bounce the light off ceilings to get softer lighting, as well as a hot shoe.
To keep costs down–the X-E1 retails for $999 body-only or $1399 with a kit zoom lens–Fuji omitted the hybrid optical and electronic viewfinder design and instead chose to go with a higher resolution electronic-only viewfinder. In use, I didn't miss the optical viewfinder much from the X-Pro 1, and the electronic viewfinder is sharp and bright, with a diopter adjustment wheel on the side.
The EVF offers a nice compromise on the X-E1 by allowing for a live view of the scene and accurate framing for image composition. However, the downside is that in low light environments, the EVF–and to a smaller degree the rear LCD–would lag for quick-moving subjects.
On the back, you get flat buttons that offer a nice, responsive click when you press them. The buttons actually feel more tactile than the shutter button at the top, which I thought felt a little bit mushy and you do have to press in with some force to autofocus before pushing in really hard to capture the image.
The rear display is a non-touch variety that's relatively low resolution, by today's camera standards given the X-E1's premium pricing, and the screen is covered by a plastic panel rather than glass; this will require extra care as plastic is easier to scratch than glass. The screen is a non-articulating kind so you can't tilt it up or down for high or low shots. On the Olympus E-PL5 and select Sony NEX series camera, the articulating screen is helpful for when I am shooting low to the ground. I can hold the camera lower and angle the screen up so I don't have to crawl on the floor to get a low angle shot. Similarly, for higher shots when I am holding the camera over my head, I can angle the screen down so I can see what I am shooting. Not so with the X-E1.
There's also a scroll wheel on the back, which is used to select and scroll through menu items. To move between the menu items, users will need to use the directional pad. I found the menu and UI to be quite intuitive, and Fuji bundled the most useful features into its quick menu, which is accessible by pressing the Q button on the rear right.
On the front, there is a shallow grip and the camera is wrapped in a rubbery vinyl material that aids in ergonomics. It looks like leather, but it's not. An LED auto-focus assist lamp is situated relatively close to the grip, so sometimes your fingers will cover the lamp if you're not careful in how you grip the camera.
There's also a switch to move between single-point autofocus, continuous autofocus, and manual focus mode. Autofocus is good for a mirrorless camera, and though there are plenty of reports on the Internet that ding the Fuji for slow autofocus speeds, I didn't experience much of that in good or low lighting in my test of the camera.
Plastic doors hide the battery and memory card compartment as well as a second compartment for ports. The build of the plastic door feels less sturdy than the plastic that Olympus uses on its compact E-PL5 mirrorless system.
For ports, you do have access to a standard mini USB port (no proprietary port, unlike on Olympus, which is a plus), an HDMI port, and a 2.5mm microphone input port for video recording.
The camera can also handle video recording up to 24 frames per second for 1080p footage. As a stills-first camera, there isn't a video button to quickly record video on the camera; instead users will have to dive into the software menu to activate video recording.
Kit Lens
The kit lens offers an 18 – 55 mm zoom (27 – 82.5 mm in 35 mm equivalent range) with an aperture range of F2.8 at the wide end that goes up to F4.0. The zoom is surprisingly good, giving clean images and does offer users nice subject isolation leading to background blur, or bokeh.
The lens also offers optical image stabilization as stabilization isn't built into the body like on Olympus' mirrorless range. At this time, Fuji is including OIS into its zoom lenses, but stablization isn't included in the non-zoom, or prime lenses. This is fine as Fuji's primes are fast with great aperture controls.
The manual focus ring on the zoom lens is done electronically, which means users won't get the distance marking on the lens itself. You can get accurate distance reading on either electronic displays.
The camera will be able accommodate Fuji's assortment of X mount lenses. Additionally, Fuji also created a a lens adapter that allows X-E1 owners to mount M lenses to the body. The M lenses are what the more expensive Leica camera uses, the same camera that the X-E1 borrows its design inspiration from, so the X-E1 is sometimes called the poor man's Leica.
Performance and Handling
With a number of accessible manual controls, the X-E1 really is meant to be used in manual mode. You won't find a mode dial on this camera nor are there any gimmicks. The no-frills camera design asks photographers to slow down and think about composition and exposure before snapping, but you'll be handsomely rewarded with crisp, sharp images.
Though the images aren't as crisp as those coming from a full-frame DSLR or a more expensive Leica, the latter can cost around 6 times the cost of the X-E1. Thanks to not using an anti-aliasing filter and the implementation of the X-Trans sensor, Fuji is able to produce sharper images than most other cameras in its class, besting the micro four-thirds format by a small margin in sharpness.
In terms of handling, the camera is extremely comfortable to hold for long periods of time. It's a balanced camera, though it may feel front-heavy if you mount a heavier or larger lens on it. There is a nice thumb rest on the rear where the Q button is located just by the exposure compensation dial.
The power switch is built into the shutter button. Flipping the switch to on, you're ready to snap your image in about a second, though you may want to plan on additional time for autofocus or manual focus.
The shutter button on my unit of the X-E1 does feel a bit mushy, and fully pressing in the shutter results in a dampened click. It's a pleasant sounding shutter for those who care about how their shutter sounds.
When powered on, my complaint is that the camera does have a high-pitched humming noise. It's not really apparent when you're outside shooting, but in a quiet environment it is noticeable. It's not bothersome, but it's there similar to the Olympus OM-D E-M5 mirrorless system. This may be because of the OIS engine as the humming mostly disappears when the OIS switch, located on the side of the lens barrel, is turned off.
Users who are shy of using the camera under complete manual mode can also set the aperture and/or the shutter speed control to "A" for automatic. With both dials set to A, you have a fully automatic shooter and with either dials programmed to A, you'll either be shooting in aperture or shutter priority.
ISO starts at around 200, and you can set auto-ISO limits up to ISO 6400. Noise is very well controlled up to ISO 3200, and images with ISO 6400 are usable with some noticeable noise. The camera does go up to ISO 25600, which would produce images with heavy noise, but is nice to have in a pinch if you need it. Additionally, for low light exposure, the built-in flash comes in handy, but the flash is relatively weak and depending on how extended your lens is the flash and lens combo could cast a shadow in your image.
The dials and controls are intuitively laid out. One thing that could change is that the aperture control does offer a reassuring click when you turn it, but can also shift out of place when you place the camera or remove it from a bag. Similarly, the diopter adjustment control next to the EVF gets activated too easily. The shutter dial is stiffer to turn, which is good as you won't have to worry about the shutter being accidentally adjusted when the camera gets bumped around in a bag.
And while I didn't find the screen resolution itself to be a problem on the X-E1–I'm not too picky about that as there is an EVF to fine tune my focus–the rear LCD does get washed out in the brightest of sunlight. I do wish the screen was a bit larger, but the size was chosen in an effort to also accommodate an EVF, which most compact micro four thirds cameras lack.
In terms of focus, continuous auto-focus is a hit or miss. I found auto-focus performance to be quite good, though still not as fast as the auto-focus on the Olympus OM-D E-M5 mirrorless system; the auto-focus speed isn't as slow as what some reviews will have you believe. With manual focus, there isn't focus peaking available to aid in focusing, but when you do achieve focus, there is a quick silver shimmer on your image. It's subtle, but is akin to focus peaking.
Additionally, there is focus magnification to aid in manual focus. You can press in on the rear dial, which offers 3X magnification so you can zoom into the focus point to see if everything focuses. You can also increase the focus magnification as well. To change the focus point, you'll have to use the directional pad as no touchscreen is available on this camera.
Sadly, though the new split image and focus assistance modes that were introduced on the more recent Fuji X100S camera, which has a similar style, optical viewfinder, and fixed and non-interchangeable lens, are not present on the X-E1.
Street photographers with fast moving subjects would want to try zone focusing, pre-focusing, or autofocus with the center point and then frame the image later.
Bringing Back the Film Look
As a photographer's tool, this camera lacks the extra features that are being added to newer mirrorless systems from rivals, such as NFC, WiFi, or GPS. However, you do get some nice classic Fujifilm film effects that simulate classic Fuji-made films like Velvia, Astia, PRO Neg. Hi, PRO Neg Standard, Monochrome, Monochrome + Y Filter, Monochrome + R Filter, Monochrome + G Filter, Sepia, and Provia. Velvia renders colors richly, offering slightly over-saturated colors while Provia offered the most natural colors. I do like how the camera handles monochrome, or black and white, shooting as the exposure was very well balanced; on the micro four thirds Olympus E-PL5, monochrome shooting resulted in over-exposure and blown out highlighting.
If you like having fine control of your exposure setting, this camera is a joy to use. Autofocus works generally well, though in darker settings, the focus is a hit or miss, though it has drastically improved since the latest software updates. My complaint is that unlike other systems that use a more discrete red or IR light to assist with auto-focus, the white LED here is a less discrete for street shooting. Also, depending on your grip and size of your fingers, you can sometimes inadvertently block the focus assist lamp.
There is a discrete mode that you can quickly enter into that will turn off the use of the flash and focus lamp, as well as mute any camera noises. By pressing and holding the DISP/BACK button on the rear, you can quickly turn on or off this discrete mode. Unfortunately, as a mechanical shutter–and not a leaf shutter–is used, you'll still have the clacking shutter sound whenever you take a picture so it's not quite a fully covert mode.
Image Quality
Out of camera JPEG images are extremely crisp and retain a lot of detail. Dynamic range is great, and you can recover additional details from shadows and highlights from either the RAW or JPEG files, though you'll still get more dynamic range from a full-frame DSLR. RAW support for the X-Trans sensor is improving, with Adobe and Apple recently adding support in Lightroom and Aperture editing suites.
I find out of camera JPEGs captured on the X-E1 to be superior to the micro four thirds format thanks to a larger sensor. Additionally, when compared with many other APS-C DSLRs on the market, the X-Trans sensor without its anti-aliasing filter renders provides exceptionally sharp images.
Image Samples–Out of Camera JPEGs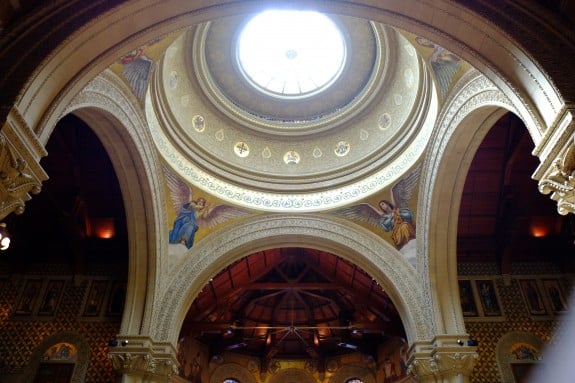 Battery Life
Though the battery life on the X-E1 is rated for 350 shots, I was able to squeeze in about 500 shots on a single charge. Additionally, users who use only the EVF rather than the rear LCD shots can squeeze in another few hundred shots. If you intend to shoot a lot out in the field, you'll probably want to order a spare. And thankfully, unlike the latest Sony NEX cameras, the X-E1 ships with a battery charger so you don't charge the battery inside the camera as you do on a smartphone or NEX.
Conclusion
With good looks and great performance to back up its aesthetics, the X-E1 is a joy to use. It still has a few quirks, and if you can live with those quirks you'll be rewarded with exceptional images in a light, portable package that won't break the bank or your back when you're out shooting.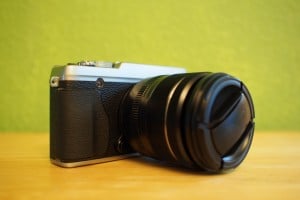 It's not a camera for every type of photography. For studio shots, posed portraitures, and landscapes–any type of scene without fast action–the Fuji X-E1 will allow provide great images. Faster photography, like sports or action photography, may be doable but is probably better employed on a DSLR. The camera's more compact and discrete nature may be good for street photography, but a relatively slower autofocus mechanism and no easy touch-to-focus touchscreen may scare away new street shooters looking at a more documentary or reportage style of photography.
With smartphones coming with better cameras, the point-and-shoot market may have largely been cannibalized, but discerning users are now turning their attention to compact systems that offer a degree of portability and the flexibility of optical zoom, interchangeable lenses, and better dynamic range–all features not found on a smartphone. The X-E1 definitely fulfills these requirements and is a worthy contender for users who may want to learn more about photography and not rely on a camera's automatic mode. It's an enthusiast camera that will grow with you. And considering that Leica bodies are upwards of $6,000 and Leica glass starts at another $4000 or so on top of that, you can't beat the price and performance of the X-E1 if you've been eyeing a Leica system. For its good looks, performance, and inspiration, we give the X-E1 a solid 4 stars out of 5.

As an Amazon Associate I earn from qualifying purchases.