Fujitsu Adds a Multi-Touch Trackpad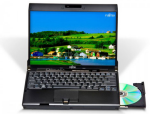 Looks like Fujitsu wants to get into the multi-touch trackpad game. The P8020 ultra-portable will have one on board so you can pinch, navigate, rotate pictures, etc… using two fingers only though, from what I'm seeing. There are buttons. You'll have to look pretty deep under product features to see this touted on Fujitsu's product page though.

As an Amazon Associate I earn from qualifying purchases.