Fujitsu Announces the Esprimo MA – Mobile Clinical Assistant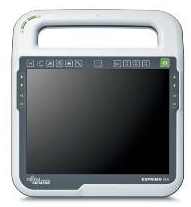 The mobile clinical assistant space is heating up, with Fujitsu throwing in their own tablet pc as an option.
Fujitsu Siemens Computers has announced the launch of the Esprimo MA, a tablet PC designed for mobile working in the healthcare sector. It is based on the Intel Mobile Clinical Assistant platform and features the new Intel Atom low-power processor designed to give long battery life for mobile devices. It closely follows the launch of the Panasonic MCA earlier this month, which also features the Intel Atom. It will be available in production quantities in the second quarter of 2009.

The Esprimo MA weighs only 1.3kg and is fanless, which enables it to have a fully sealed housing that can be sterilised for use in healthcare environments. It has integrated high-speed 3G/UMTS (3G is optional), WLAN and Bluetooth wireless communications.

Unlike earlier MCA designs, the Esprimo MA has a dual smartcard reader to ensure maximum security for sensitive patient data. It has a long battery life (up to four hours) and a hot-swap feature for replacing the battery, which enables it to be used for extended periods without returning it to a docking station for recharging. When in the docking station it is physically locked to the station and cannot be removed without a dedicated digital pen. The Esprimo MA also has an integrated barcode scanner, RFID reader and an auto focus camera.
via TabletPCTalk.com

As an Amazon Associate I earn from qualifying purchases.