Fujitsu Enters The UMPC Scene
News from the Intel Developer's Forum is that Fujitsu is jumping on the UMPC bandwagon. Matt has already pointed to some new Fujitsu Tablet news, and the ultra-mobile news about Fujitsu certainly makes it look like Fujitsu is in the game for the long haul. We don't have much specific info on this yet but here's a shot of the Fujitsu unit for you to drool (or not) over.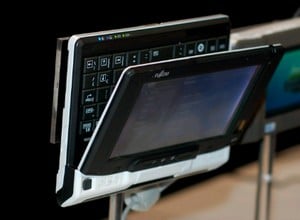 As an Amazon Associate I earn from qualifying purchases.