Fujitsu giving away a Lifebook T730 Tablet PC this week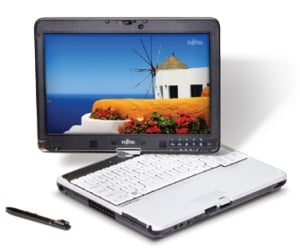 In the second week of their twelve-week sweepstakes, Fujitsu is handing one lucky U.S. resident of voting age a Lifebook T730 Tablet PC. Children and the rest of the world can stop reading this now.
The T730 is basically a slightly smaller version of the T900 I evaluated, which both Brett and I now use as our respective daily computers. Eligible contenders can pop over to Fujitsu's Facebook page to enter. This week's contest starts today and ends October 11.
You may recall Fujitsu previously gave away a T730 in another contest on Facebook. Fujitsu has been on a real tear with the grassroots giveaways this year. I'm especially pleased they're still using the name "Tablet PC" even while others, including Microsoft, have backed away from it.
And before you ask, yes, it seems Fujitsu used the wrong image in their contest. What they show on their Facebook page as the T730 appears to be the TH700. Coincidentally, I made a similar mistake when passing on word of their previous contest. Either way, it's a chance to win a Tablet PC. Good luck. Hope it goes to one of you who actually knows what that term means.