Fujitsu Goes All-Out With Multi-Touch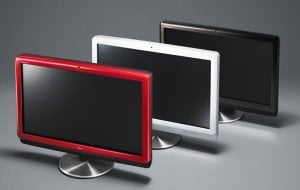 Or for you gamblers, I suppose that should be "all in." Regardless, Fujitsu, having already debuted multi-touch in their Tablet PCs, is following through with multi-touch desktops, another Tablet PC, and computers for an older audience, all directed to the home consumer market.
Per Akihabara News, their F series all-in-one desktop is available with either 23″ (1920×1080) or 20″ (1600×900) multi-touch screens (and per the Fujitsu press release, I've learned it can tilt up to 30 degrees). Intel Core 2 Duo P8700 2.53GHz and 4GB memory are standard. Blu-Ray burner, 1TB HDD, and Digital and Analog TV tuners are options.
The MT E50 Series is a convertible Tablet PC with 12.1″ screen featuring Wacom touch+pen multi-touch digitizer. This is a low-powered, lightweight unit intended for use around the home. Definitely not a powerhouse with Intel Celeron 900 (2.2GHz). 2GB memory, and 320GB HDD.
Closing out the new home consumer multi-touch lineup are the notebook Biblo NF/ER with 15.6″ widescreen and desktop Deskpower F/ER. Both are intended for older users with customized touch interface, keyboard and mouse, and a customer support line to help those older users figure out these new-fangled contraptions. Dedicated support line is a great idea. My wife's grandfather has one. Goes straight to my iPhone. :)
Via Engadget