Fujitsu launches "Slate-beating" 10″ Lifebook T580 Tablet PC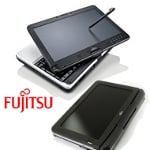 Fujitsu is rolling out a new convertible Lifebook Tablet PC. The T580 is smaller than their recent releases with a 10.1″ screen, but it's still able to rotate in either direction to flip to slate mode. And in a different kind of twist, Fujitsu is marketing this thing as a "Slate-beater".
Old-timers will recall that Fujitsu was a slate-making machine until the past year, particularly with their Stylistic line of Tablet PCs. Indeed, their experience with slates and ability to translate that to convertibles are a reason why their T900 appealed so strongly to me in my recent review. Thus, it's strange that, in their press release, they're citing their experience with convertibles as a strength in their "slate-beating" product. I have to wonder if perhaps they're trying to get ahead of an industry shift from slates to convertibles, much the way it happened to Tablet PCs. Heh, even the possibility of the old slate vs. convertible argument being revived has me feeling nostalgic.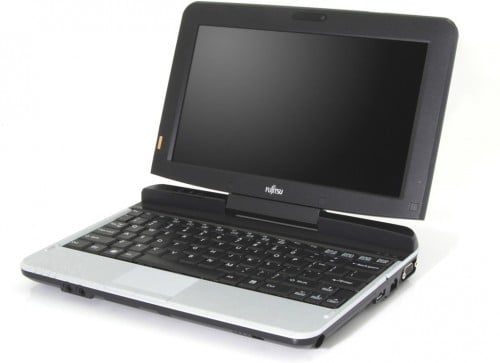 Another interesting tidbit is that the T580 can recognize four points of contact with its dual-digitizer. This signals that it's using an N-Trig digitizer, which can recognize four points while Wacom is still limited to two (unless that driver upgrade is coming soon). It also offers options for integrated 3G connnectvity and GPS. Product is listed on Fujitsu's website but not available until November. Press release and brief video preview below.
Via Engadget
https://www.youtube.com/watch?v=XuaebdYRPFs
New Smaller LIFEBOOK T580 Is The Gateway to Fujitsu's Tablet Line Up

Slate-beating LIFEBOOK tablet PC combines touch screen mobility with the convenience of a keyboard

Munich – Fujitsu today introduces a new smaller fully featured tablet PC, the LIFEBOOK T580, measuring up with a 10.1-inch screen size. Leveraging Fujitsu's 20 years of convertible PC experience, the slate-beating LIFEBOOK T580 squeezes full-size notebook features and technology into a smaller, lighter and lower-priced package.

Fujitsu's LIFEBOOK T580 is the flexible alternative mobile working on a slate – removing the frustration of slow responses by packing much more processor power, and delivering convenient practicalities for all-day working, such as a keyboard, two USB slots, SD card and SmartCard readers, a webcam, and outputs for both VGA monitors and high-definition HDMI displays.

Weighing just 1.4kg, the new baby LIFEBOOK T580 converts from a notebook to a touch screen tablet PC with a simple twist of the unique bi-directional rotatable screen. This provides a full touch screen experience including support for four-finger multiple touch, and enables fingertip control for up to 14 different gestures, as well as touch-based double-tapping, scrolling, magnifying and rotating. A Dual Digitizer delivers the highest accuracy and pressure sensitivity when working with a stylus, and the Microsoft Windows® 7 operating system recognizes handwriting in 26 languages, plus voice commands.

Like all Fujitsu LIFEBOOK tablet PC Series models, the LIFEBOOK T580 is designed for mobile life. Even in direct sunlight, the screen display is bright and clear thanks to high-definition LED backlighting with an Ambient Light Sensor that automatically adjusts display brightness, while a smear-proof coating means no distractions from fingerprints.

Working outdoors or on the road no longer means compromising on connectivity as the LIFEBOOK T580 is packed with optional embedded 3G/UMTS (combined with GPS), WLAN and Bluetooth. The latest Intel® Core™ processor technology ensures a responsive and fast processing system. In addition, convenient buttons allow fast access to often used applications and provide an easy way to check remaining battery power. Security features include a biometric fingerprint sensor and Fujitsu's Advanced Theft Protection solution.

Rajat Kakar, Vice President Workplace Systems at Fujitsu Technology Solutions says: "The new LIFEBOOK T580 is designed to be used primarily on the move – which is why there is no compromise on connectivity or usability. The new smaller size combines the portability of a slate with the added practicality of a tablet PC, giving LIFEBOOK users the best of both worlds."

Underlining its advantage over slates, the LIFEBOOK T580 packs more disk space, more memory, more connectivity options, more security, and more than double the processing power. The LIFEBOOK T580 is the lowest-priced tablet PC in Fujitsu's line-up. Exact pricing varies by region.

Fujitsu's LIFEBOOK T580 will be available for all regions in late November 2010 and can be pre-ordered in the EMEA region from October 1, 2010

This article may contain affiliate links. Click here for more details.