Fujitsu Lifebook T901 Tablet PC on Sale Now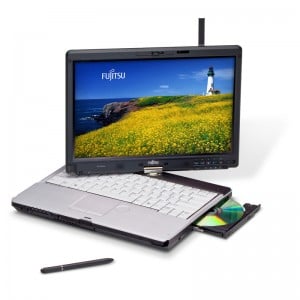 Yesterday, Fujitsu announced the follow-up to their T900 convertible, the Lifebook T901 Tablet PC. While it is a straightforward spec-bump in many respects, there are a few notable changes, including five-finger gesture support and optional NVIDIA Optimus graphics.
The straightforward stuff includes an upgrade to the 2nd gen Intel Core processor with options up to the i7-2620M (2.70 GHz, 4 MB L3 cache) with Turbo Boost up to 3.4 GHz. The onboard drive is now SATA II, formerly SATA, with storage up to 500GB 7200 rpm HDD or 256GB SSD. A Blu-Ray writer is now available as a modular bay drive option. An HDMI video port has been added.
Less straightforward is the addition of gesture support for up to five points of contact. Important to note the words "gesture support" here. This indicates that a slide of multiple fingers could trigger a command, like page up or down, but not be read as separate cursors in MS Paint. Not groundbreaking, but a step up from the two-finger recognition on the T900.
Clearing up earlier confusion on the graphics, the T901 lists Intel® HD 3000 integrated graphics as the base option and also lists NVIDIA® NVS™ 4200M GPU (1 GB Video RAM) with Optimus™ technology as an optional upgrade. This will not be available June 2011, so if you need the graphic muscle, you'll need to wait on this.
Finally, snuck into the display description is mention that the "display accelerometer is factory disabled," which implies this model has an onboard accelerometer. Presumably it can be turned on in the Control Panel, like the ambient light sensor on the T900 which is also disabled by default. I'm not a fan of of accelerometers in large convertibles (never used it much in my Toshiba tablets), but I think it should definitely be there, enabled at the user's discretion.
Overall, not a huge leap over the T900, which I still love, but the few improvements, particularly the graphics, can be critical for some users. And of course, the T901 includes the Fujitsu convertible trademarks, such as the bi-directional hinge and modular bay. Still an enterprise-level machine with price starting at $1899.
Via Engadget

As an Amazon Associate I earn from qualifying purchases.