Fujitsu Lifebook UH900 is a Multi-Touch Marvel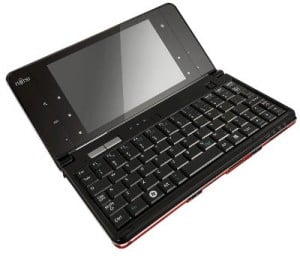 Fujitsu has lifted the curtain on a new UMPC that seems built around the idea that, if the device is small and light enough, you don't need to hide away the keyboard to work the touchscreen.
The UH900 features a clamshell design, not slider or convertible. Looks like an ultra-portable but sounds easy enough to work like a UMPC. Buttons flank the sides of the multi-touch screen. Three are programmable, allowing such tasks as changing the resolution, switching to power saving mode, or launching applications. Two others allow for for page up and down. In addition, there is a thumb-glide point and buttons for mouse clicks, and it comes with a stylus for pen input. That is some serious input option overkill. Admittedly, I have way more input options than this at my desk, but that's at a desk with space for peripherals, not crammed together in a tiny handheld.
How tiny is it? 20.4cm x 10.65cm x 2.38cm with a 5.6″ screen. The little screen is powerful though: "vivid glare screen at 300nits brightness. Boasting a sunlight readable WXGA display with bonding technology." It's powered by an Intel Atom Z530 processor with enough punch to run Windows 7 and offers an impressive 62GB SSD. But all that doesn't come cheap; starting price should be around $1400. Still, not a bad price for what it offers.
Via UMPCPortal

As an Amazon Associate I earn from qualifying purchases.