Fujitsu Offers Lifebook 4 Life Promotion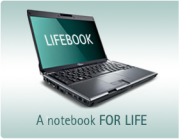 This has got to be tempting on a number of fronts if you're a UK resident. Fujitsu UK is offering a promotion that will allow you to buy Fujitsu Lifebook S, T, E, Q, or P notebook (that includes Tablets in those classes) along with a 3-year warranty. At the end of the warranty period they will replace your notebook with a new one. Not only that but they'll keep doing so every three years as long as you're game. Called the Lifebook 4 Life Promotion, this looks like a promising marketing technique.
The new laptop will be one of the same value as what you originally purchased. Fujitsu is also figuring in inflation and upping the ante by 10% each cycle. An individual or business can buy up to 10 notebooks in the promotion, and of course there are some conditions involved. If you do any upgrading you'll need to do so with Fujitsu authorized parts.
Via Slashgear

As an Amazon Associate I earn from qualifying purchases.