Fujitsu Officiially Announces Two New Tablet PCs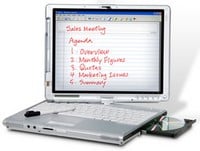 Fujitsu yesterday officially announced their newest Tablet PCs. No real news as word as been out on these two models for awhile now.
Not being talked about as much is the Lifebook T4215. With this model Fujitsu's very popular ultra-light convertible steps up to Core 2 Duo land. Fujitsu offers 3 display options all at 12.1 inches: SXGA+, XGA (both indoor screens with wide viewing angles), and an indoor/outdoor XGA option, also with a wide vieing angle. It contains a modular bay, that filled with an
additional battery can give you up to 10 hours of battery life. Read more at Laptop Review.
And of course the model that everyone is talking about is the P1610. You can read much more on this tiny Tablet here and also make sure you check out Rob's first look Inkshow at the Japanese model of of the P1610. I have to say this model is looking like a very attractive option. It certainly has the buzz about it.

As an Amazon Associate I earn from qualifying purchases.