Fujitsu P1610 info coming our way
Another anonymous GottaBeMobile.com reader has sent us some good info on the previously leaked Fujitsu P1610 Tablet PC. This info comes to us as a sales presentation document.
In the presentation doc, they have the Target General Availability as November 7, 2006. That date is still rock solid as of today, but of course is subject to change.
Most of the information in the presentation has already been published: pc card slot (finally!), sd card slot, WXGA screen resolution, and a bi-directional hinge. In addition, we saw some great video footage on Hugo's blog ( which has since been pulled ). Here are the specs that were included in the presentation doc, along with the availability date. And yes, in the presentation doc, they still refer to this as a Notebook computer, just like they do the P1510.
I'm really looking forward to giving this one a spin.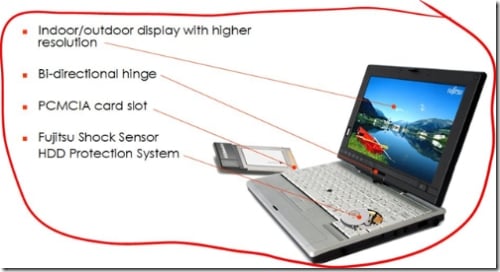 Target General Availability: November 7, 2006

Convertible form factor with bi-directional hinge

8.9" indoor/outdoor transflective display

the transflective display is defined in the doc as:

Technology most commonly used in Pocket PCs

Combination of transmissive and reflective technologies

Incorporates a backlight and a perforated mirror that allows light from the backlight to shine though

A transflective display is similar to a reflective LCD: they both work well outdoors

Higher resolution: WXGA (1280 x 768)

Graphics: Intel Graphics Media Accelerator 950; up to 128 MB UMA

Passive touch screen with palm rejection

Intel Core Solo Processor U1400 (1.2 GHz, 2MB L2 cache, 533 MHz FSB)

Intel 945GMS Chipset

Integrated fingerprint sensor and TPM 1.2

PC Card Slot

SD Card Slot

30, 60 or 80gb (4200 rpm) shock mounted harddrive, also protected by Fujitsu's Shock Sensor

Up to 1GB system memory ( 1 slot; DDR2 533 mhz)

Feather light — about 2.2 lbs

Shock Sensor Hard Drive Protection System

Exceptional battery life

Intel 3945 ABG or Atheros ABG WLAN with dual diversity antenna

Weight: 2.2lbs

Optional Bluetooth

OS:

Windows XP Pro, XP Tablet PC

As an Amazon Associate I earn from qualifying purchases.