Fujitsu P1610 Tablet PC Available for Pre-Order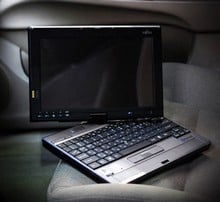 jkOnTheRun is reporting that the Fujitsu P1610 Tablet PC is now available for pre-order at J&R.com. Next week (Nov 7) is scheduled to be the official release date. Lots of interest around this tiny Tablet PC priced at $1799. Here are the specs from J&R.com
Intel Core Solo Processor (1.2GHz) / 8.9″ WXGA Indoor/Outdoor Touchscreen LCD / 512MB of DDR2 SDRAM / Built-in 802.11a/b/g
Fujitsu LifeBook P1610 Notebook Computer – The LifeBook P1610 is uniquely designed to meet the needs of Mobile professionals. The 8.9″ indoor/outdoor TouchScreen display covers nearly any computing situation. It can swivel from a standard notebook position, into a tablet, for when you're literally "on-the-go". Powering this mini laptop is the Intel Core Solo Processor with 512MB of DDR2 SDRAM. Enough power for basic day-to-day business and entertainment applications.
Includes: 2600 mAh Lithium-Ion battery, AC adapter, Windows XP Tablet PC Edition 2005, Office OneNote 2003, Google Picasa, Norton Internet Security 2006, and more.

Intel Core Solo Processor Ultra Low Voltage U1400 (1.2GHz)

2MB of L2 Cache

533MHz FSB

8.9″ WXGA Indoor/Outdoor Touchscreen Display

512MB of DDR2 533MHz SDRAM

60GB PATA 100 4200RPM HDD

Shock-Mounted and Shock Sensor Enabled

Integrated Atheros Super AG 801.11a/b/g Wi-Fi Wireless Network Adapter

Integrated 56K V.90 Modem

Integrated Bluetooth 2.0 Support

Integrated Fingerprint Sensor and BIOS-enabled for Computrace/LoJack Theft Recovery System (service subscription required)

Ports – 2 USB 2.0, 1 10/100/1000 Gigabit Ethernet, 1 Headphone, 1 Microphone, and 1 VGA Out

Kensington Lock Slot

One Type I/II PCMCIA Card Slot (32-bit PC Cardbus architecture)

One SD Card Slot

Unit Dimensions – 9.13″ (w) x 6.57″ (d) x 1.46″ (h)

Unit Weight – 2.2 lbs.
Rob linked to Hugo Ortega's re-released video of the 1610 earlier. So, check that out here.
>

As an Amazon Associate I earn from qualifying purchases.