Fujitsu P1610 Tablet PC Video Review Hardware InkShow

In this Hardware InkShow video review, I take a closer look at the Fujitsu P1610 Tablet PC, examine ink notetaking and touch, review the keyboard and compare it to the ThinkOutside Stowaway keyboard, and address some usability issues. In addition, I take a look at some of what you can expect out of the box.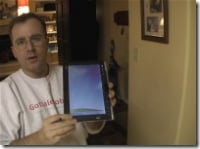 The more I use the P1610, the more impressed I am with it. I've never used a touch device that supplied such a good inking experience. My only negatives are the cramped keyboard and the limit of 1gb, but those are to be expected with an ultra mobile computer and are not deal killers for me. The next thing Fujitsu could do to improve this tablet would be to incorporate true multi-touch to offer the benefits of an active digitizer and touch. This will be an ultra portable tablet pc that I plan on holding on to for a while. It is a complete solution for the way I work when going mobile.
Special thanks to Allegiance Technology Partners for providing us with a demo unit. You can learn more about the P1610 and inquire about getting a demo unit for yourself by visiting www.alltp.com.
The P1610 that I demoed in this InkShow had the following specs:
1.2 ghz Solo Core processor

Tablet PC with Touch palm rejection technology

Windows Vista capable

512mb ram, 1gb max

60gb harddrive

SD card slot, PC card slot, 2 USB ports

Intel 945GM graphics adapter, 1280 x 768 resolution

External VGA ( my testing showed up to 1800 x 1440 external resolution )

Atheros Super AG wireless ( a/b/g )

Bluetooth

OneNote 2003
All GottaBeMobile.com InkShows are sponsored by:

As an Amazon Associate I earn from qualifying purchases.