Fujitsu Releases The P1610 In Korea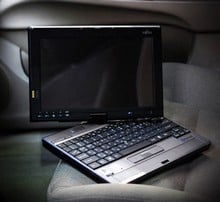 GBM Forum member RecumboJumbo links to news that Fujitsu has released the P1610 Tablet PC in Korea. He points to a Gizmodo link, where they amusingly call this diminutive Tablet PC an illegitimate love child of the UMPC, ultraportable, and a Tablet PC. Here are some specs:
Intel Core Solo processor U1400(1.2GHz)

8.9" Wide XGA screen

80G HDD

3–cell battery (4.5 hours)

Finger Print Sensor

PC, SD, and USB slots.
Love child or not, this looks like a real competitor for the smaller size form factor in my opinion.

As an Amazon Associate I earn from qualifying purchases.