Fujitsu ScanSnap s1300 Reviewed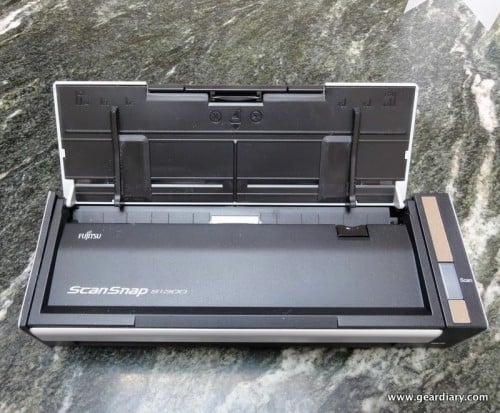 I'm trying to go completely paperless this year, but don't quite have all the necessary tools. My current HP Photosmart all-in-one can only scan a single page at a time, making it pretty labor-intensive to get a week's worth of mail scanned and uploaded.
After reading Dan Cohen's review of the Fujitsu ScanSnap s1300 over at GearDiary and seeing one at the Evernote office (InkShow coming soon), I'm thinking about picking one up. There are a few ScanSnap, but the s1300 is portable and can run off of PC's USB port. The S1300 is a duplex scanner, which means it can scan both sides of a sheet of paper in a single pass. This is a huge advantage compared to my current flatbed scanner, which doesn't even have an automatic document feeder.
Dan already has a good document scanner at home and says there's nothing he'd change about the S1300. Since I don't, have a good scanner yet, I'm torn between getting something that's mobile vs. getting something that's more robust, but will have to live on my desk.
I still have a lot of documents and mail that I don't want to keep around, but need to for tax purposes or 'just in case.' This is what I hope to do with it from now on before sending it to the shredder.
Are you completely paperless? If so, what tools do you recommend using?

This article may contain affiliate links. Click here for more details.