Fujitsu Smartphone App Measures Pulse Using Front-facing Camera
A new technology from Fujitsu will measure a user's pulse by looking at their face through a front-facing camera.
The new technology can use any camera attached to a smartphone, tablets or laptop to measure a user's pulse after just five seconds. The user has to remain still for those five seconds, but when it's done the app can accurately tell the user their pulse based on the short video.
The app works by detecting the flow of hemoglobin in the user's blood. Hemoglobin absorbs green light, which makes it possible to track as it moves through veins in the user's face. By measuring how the hemoglobin flows the app can find a user's pulse without the need for an accessory of any sort.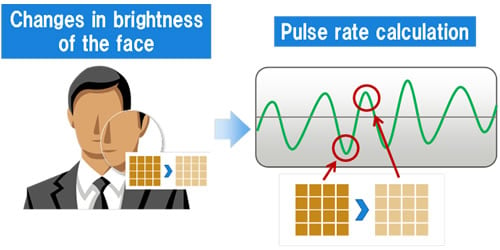 Fujitsu's new technology can help users who want to track their pulse after running or working out. The app can't measure the user's pulse as they run unless they can remain still while they run, but it can give an accurate reading after a run or work out.
The technology isn't implemented in any app as of yet, but there's a chance it will come to Fujitsu devices sometime in the future. Fujitsu may also decide to license the technology to developers for use in fitness apps or other apps.
There are currently some apps for mobile devices that can measure pulse without an external accessory. Those apps, such as Instant Heart Rate for iPhone, use the camera and flash of current smartphones to measure pulse. Users place their finger over the camera lens of the smartphone, and the apps use the flash to help measure heart rate.
Current apps take longer than the five seconds that Fujitsu's technology needs and aren't as easy as just looking at a phone for five seconds. Apps that measure pulse using a camera and a finger have one distinct advantage, however: they are available right now for users to download.