Fujitsu ST6012 Tablet PC Arrives, First Impressions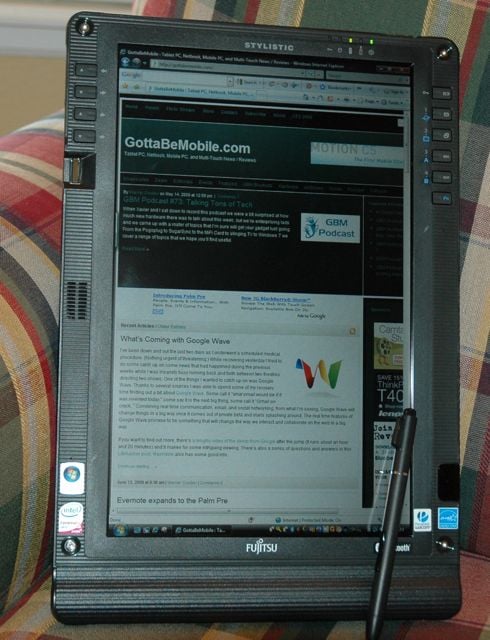 Upon returning from a trip down south, I was pleased to find a box from Fujitsu waiting patiently for me. As any geek worth his salt would do, I immediately opened it up and was pleased to find an ST6012 Tablet PC!
I've only had the ST6012 for a couple of days, but my initial impression is very positive. I've found the ST6012 to be extremely light and have just about every option I could possibly want: SD card slot, a dedicated PC card slot, smart card reader, lots of configurable buttons on both the right and left side of the screen, and a very nice 1280 x 800 indoor / outdoor display. In addition, the standard 6-cell battery is giving me between 4 and 5 hours of battery life. An optional 9 cell high capacity battery is also available. An optional web camera (not on this eval unit) is also available.
The only negative I've found is that the 1.4 ghz Core 2 Duo Ultra Low Voltage tablet pc runs a bit sluggish. This evaluation unit only has 1 gb of RAM and it has an 80gb HDD, so that doesn't help much either. In addition, the ST6012 is running 88 processes out of the box on this Vista Business factory installation. Upgrading the RAM and going with an SSD certainly would help things. I might install Windows 7 on this Tablet PC just to try the performance and inking, but will mostly concentrate on the Vista installation for purposes of my review since Windows 7 isn't out yet.
It certainly is light weight and quiet though, and is a joy to hold in my hands. Inking is also quite smooth. The felt cloths in the back are a welcome change from other tablet pcs.
Stay tuned for more on the ST6012, including some pictures, more impressions, and an InkShow. Post any questions you have and I'll try to address them in future articles.
The ST6012 is available for $1999.