Fujitsu Stylistic Q550 slate Tablet PC to launch at CeBIT
Word out of IDG News is that Fujitsu will launch their new Stylistic Q550 at Germany's CeBIT show this year, running the first week of March. This should be a welcomed return for many long-time Tablet PC fans who lamented the gradual decline of this line of slates. And for those who don't know their long history with tablets, Fujitsu has put together a show for you.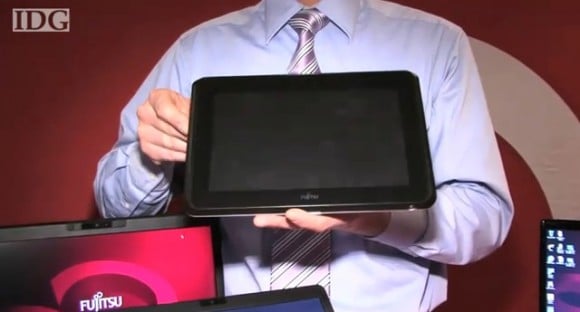 The Stylistic Q550 is an enterprise-oriented slate running Windows 7 Professional on the new Intel Atom Oak Trail processor. Between that and the LED backlight, the tablet will supposedly run for eight hours, though that presumably is with proper (or extensive) power-saving measures. Also included are front and rear cameras and one USB port. Onboard storage options are 32GB or 64GB SSD. 3G is also an option.
The display is dual pen and touch input. As confirmed on the Face2Fujitsu blog, it does not use a Wacom digitizer. Presumably that means it uses N-Trig's DuoSense, as that is the only other widely available dual digitizer, but that is not confirmed.
And in case anyone is thinking Fujitsu is jumping on the slate bandwagon, they have a little slideshow and history lesson on their website showing how they've been supporting mobile, pen/touch input computers since the beginning.
Via Slashgear > Electronista > PC World