Fujitsu Stylistic Q550 Review: Sweet Shell, Bitter Core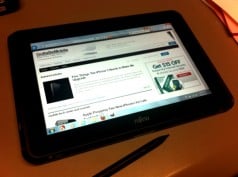 A candy shell with sweet filling and a bitter core, that's how I'd sum up the Fujitsu Stylistic Q550 slate Tablet PC if it was a confectionery treat. Nearly everything about this tablet is first-rate, except the slow processor. There are understandable reasons for that, but ultimately, while the Q550 can do the work, it does so at a sluggish pace.
Before I get into it, I want to emphasize Fujitsu's enduring commitment to the tablet form factor. Their designs are excellent, as is their build quality. The Q550 lives up to their standards in that respect. Fujitsu has been good for the community and great to me in particular. Believe me, there's nothing I would enjoy more than to give this tablet a glowing review. Unfortunately, I have to be honest and say I am very disappointed by the poor performance of the Q550. This is especially painful since the rest of the machine is excellent in so many ways.
Candy Shell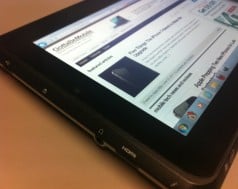 Holding the slate, it's easy to feel the quality of the Q550. There's a subtle texture around the whole body that offers the right amount of resistance to grip the tablet and provide enough drag on the screen so that the pen glides over it like paper, not glass. The edges are rounded so it's not digging into your palm either. And even with the 4-cell battery, it's under 2lbs. It's very comfortable in hand and easy to hold, more than the lighter iPad or HTC Flyer in my opinion.
The matte finish of the display with 160 degree viewing angle and 400 nit backlight provides great visibility in most lighting situations, including outdoors. Resolution is very good at 1280×800. And there's no worries about scratching the screen either; the slate is certified to MIL-STD-810G for toughness.
Sweet Filling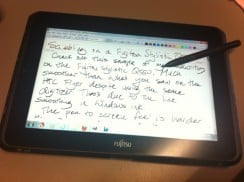 Under the shell, it packs a 62GB SSD and 4-cell battery that can provide up to 8 hours of runtime ($849 configuration, also includes Trusted Platform Module (TPM) v1.2; $729 configuration offers 30GB, 2-cell battery, and no TPM). Sleep and resume happens in a second, followed near instantly by reconnection to Wi-Fi (802.11abgn). Bluetooth 3.0 is also included.
The battery is cold-swappable, meaning the tablet must be powered off to swap the battery, but it can go to and from hibernation so quickly that it should take no longer than the time required to physically retrieve a replacement and put the used one away. An included utility allows quick access to hibernation. The Q550 offers incredible endurance.
The dual digitizer provides multi-touch and active pen input. As I found with the HTC Flyer, the pen detection range of the N-Trig digitizer is a hair shorter than that of Wacom. It also requires a firmer press to trigger clicks. Otherwise, the quality of the two digitizers are quite comparable. In fact, I would give N-Trig a slight edge in touch accuracy. The Q550 pen is battery-powered. There is no silo in the tablet to hold the pen, but it comes with a tether.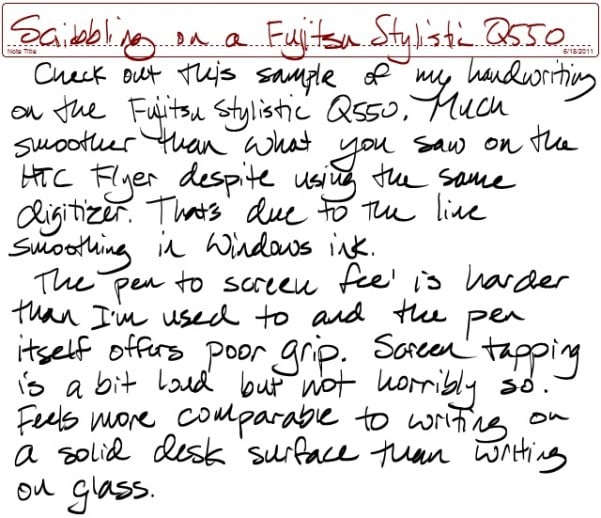 Bitter Core
Unfortunately, all those great features are shackled by its pathetic 1.5GHz Intel Atom Z670 processor, a.k.a. "Oak Trail". I have handled Windows tablets with Intel Atom processors and SSDs, such as the TEGA v2 and ARMOR X7, and still I was surprised and disappointed by the sluggishness of the Q550. I thought perhaps it was a matter of perception due to working with the HTC Flyer and Fujitsu's speedy Lifebook T900, but after firing up the TEGA for a re-check, I feel the Q550 definitely does not stack up. At least under its default settings.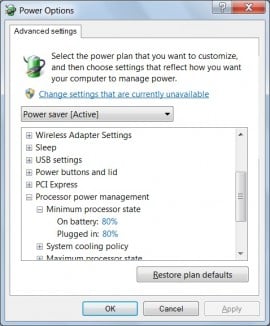 By default, the power settings in power saving mode allow the processor state to drop as low as 5%. If you're running an Intel Core processor, that might not be too bad. Intel Atom, however, does not have much performance to spare. To make the Q550 usable, I've had to bump up the minimum performance to 80%.
The key word there is "usable". Without changing this setting, the slate was so slow that even switching between applications and surfing the web proved frustrating. Forget HD video. Even short Flash clips can only play at embedded sizes, not full screen. Working with single, simple applications that are more static in nature, like Windows Journal, was about as much as it could handle comfortably. Frankly, I found it difficult to evaluate in this condition. Let me further emphasize that bumping to 80% made it passable, but still no speed demon.
Part of the reason for going with this slow processor was, I'm sure, extended battery life. However, an equally important consideration was heat generation. Unlike every other Windows slate I've used, the Q550 has no obvious means of heat dissipation, passive or active. My old Electrovaya Scribbler relied on passive air flow and dissipation through the battery that took up the whole bottom. ARMOR rugged tablets use a thick back-plate grill to conduct heat away from the center. The TEGA v2 is fan cooled. Heat leaks through side ports and the back of the Q550, which should be adequate for the low-heat processor it uses, but I doubt it would suffice for something more powerful and hotter. The Q550 is designed around the promise that the Oak Trail platform could run fanless, which it does at the cost of adequate performance.
Hard Chewy Bits
The lackluster performance is by far the biggest flaw of the Q550, but it is not alone. The front and rear cameras are a disappointment, especially compared to the quality of so-called lesser tablets. It's not simply a matter of resolution (VGA front, 1.3 MP rear – I doubt the processor could handle more), but quality of images. Actually, they are no worse than what is standard for built-in PC webcams, but that standard is being put out to pasture by the new generation tablets.
One thing I found peculiar is the front camera is on the left side in landscape mode, so it seems designed for portrait use, but then the photos in portrait using the included app get framed by black bars inside the landscape photo dimensions. The onboard speaker and dual-microphone, however, are quite adequate.
Some of the software choices are a bit odd. Fujitsu included a launcher application to make up for the poor touch accommodation in Windows 7. It's easy enough to launch from the taskbar, but offers little functionality over what could be added to the taskbar and desktop. Also, contrary to my earlier report, Fujitsu's Infinity App Store (a rebranded Intel AppUp) was not included though it can be downloaded. Finally, the Q550 includes an owner's manual as PDF, but does not include a PDF reader.
Tasty Chunks
Offsetting those oddities are some good choices on hardware. It includes one SD card slot and one USB port, which I feel should be minimum requirements on Windows tablets. For enterprise users, there's a Smart Card slot and fingerprint reader, while a headphone jack and HDMI port are provided for entertainment (and work). The docking port and AC port are both located at the bottom (landscape).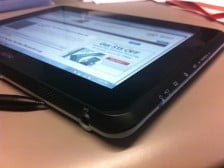 The buttons are all located on the right side (landscape), as is the spot to attach the pen tether. They include a power toggle; buttons for on-screen keyboard, screen rotation, and secure action sequence (Ctrl-Alt-Del); and a switch for wireless (airplane mode). These are all well-recessed and stiff so as to avoid accidental triggering. Placement of ports and buttons seemed to work quite well in both orientations.
Screen rotation can be set on a fixed sequence using the button or can be changed automatically using the accelerometer, which is turned off by default but easily activated using the included application. Applications are responsive instantly after rotating.
Last Bite
Despite what is a deal-breaking lack of performance for me, the Q550 is the first rugged, sealed and lightweight Windows tablet I've used. Others have hit two of those points but not all three. This, along with the excellent battery life, gives the Q550 a small but solid niche to serve. If you need a tough Windows 7 tablet that weighs under 2 lbs. and provides enterprise-level amenities, the Fujitsu Stylistic Q550 delivers. It just delivers by ground mail instead of next day air.
On a final note, while I'm not letting Fujitsu off the hook for shipping the Q550 with this meek processor, it's only fair to point out that both Intel and Microsoft made grand claims about Oak Trail. This was the platform that was supposed to make Windows 7 tablets "happen" in 2011. Microsoft CEO Steve Ballmer claimed Oak Trail would change things. Companies, such as Fujitsu, were banking on this new platform to deliver on that promise. Well, it's here and I think it's ruined what should have been a great tablet. Or should I blame Microsoft for their delusion that their fat OS could run properly on such a slim processor? Oh, but I'm sure things will be much better with "Cloverview" (or Windows for ARM or whatever comes after that…).
InkShow
Below is a video overview of the Fujitsu Stylistic Q550. The performance shown is after the minimum processor state is bumped up to 80%. I show the system returning from sleep, as well as apps launching, all of which are zippy thanks to the SSD. The performance problem doesn't become really noticeable until I hit the web with both Flash-enabled IE9 and Flash-blocked FF4.
Available for download in iOS-friendly MP4 format in both SD and 720 HD.
Update: Here are photos showing the screen in daylight. The first is with maximum brightness. The second with minimum brightness. And yes, that is the glare of the sun in the lower left corner behind my reflection. This was as direct sunlight as possible without blinding myself. It's clear at maximum brightness and barely visible at minimum but I could see the screen well enough to bump the brightness setting back up.