Fujitsu T4215 Tablet PC Hardware InkShow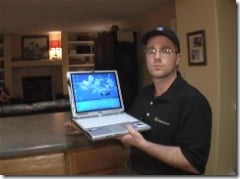 We have had a lot of requests in the past several months to do an InkShow of the Fujitsu T4215 Tablet PC. In addition to a review of the T4215, folks have been asking for a comparsion between it and the Lenovo X60 Tablet PC. In this InkShow, I tried to accomodate both requests, as I took a look at the T4215 and also spent about 13 minutes comparing it to an X60 XGA Tablet. I'm sure I missed some comparison things, but as you'll see in the video, I kept finding more things to compare even as I was trying to wrap things up! As you'll also see in this InkShow, the two tablet pcs couldn't be more different. As an example, and one I failed to mention in the review, Fujitsu's speakers are on the outside front of the tablet. The Lenovo x60 speakers are on the bottom front of the tablet. Guess which sound better? As a result of comparing the two tablet pcs, I ended up covering some of the features of the T4215 twice.
Overall, I really like the T4215. As is the case with their other Tablet PCs, Fujitsu has done a first class job in its design, performance, and functionality. My only beef with the T4215 is the 12″ XGA screen. It is quite grainey and bothersome to the eye, much like the Toshiba M400 and M7 screens. I've got a few other nit picks, but they are personal preferences rather than design flaws. If you need a tablet pc with a smart card reader or with an integrated cd / dvd drive, I think the T4215 should be at the top of your list. A big plus with the T4215 over other tablets with integrated cd / dvd drives, is that the cd drive can be swapped out for a battery to provide additional mobile time.
The Fujitsu T4215 Core 2 Duo is now available with Vista Business, prices starting at $1989
The configuration and PC Mark 05 test results are included below after the viewing links. Special thanks to Allegiance Technology Partners for sending us the demo unit. Enjoy!
Watch the InkShow

(High Resolution 35:35, 276mb – recommend right-clicking and choosing Save-As to view locally.)

Watch the Embedded low res SoapBox version below
Configuration
Processor Intel Core 2 1.83 ghz

Physical / Logical CPUs 1 / 2

MultiCore 2 Processor Cores

HyperThreading N/A

Graphics Card Intel(R) i945GM

Graphics Driver Mobile Intel(R) 945GM Express Chipset Family

Co-operative adapters No

DirectX Version 9.0c

System Memory 1024 MB

Disk Space 76.32 GB

Motherboard Manufacturer FUJITSU

Motherboard Model FJNB1B9

Operating System Microsoft Windows XP
PC Mark 05 results
Main Test Results
System Test Suite 3180 PCMarks
Detailed Test Results
System Test Suite
HDD – XP Startup 6.31 MB/s
Physics and 3D 77.68 FPS
Transparent Windows 134.81 Windows/s
3D – Pixel Shader 13.14 FPS
Web Page Rendering 2.12 Pages/s
File Decryption 50.07 MB/s
Graphics Memory – 64 Lines 481.4 FPS
HDD – General Usage 4.2 MB/s
Multithreaded Test 1 / Audio Compression 1891.5 KB/s
Multithreaded Test 1 / Video Encoding 334.71 KB/s
Multithreaded Test 2 / Text Edit 127.93 Pages/s
Multithreaded Test 2 / Image Decompression 24.9 MPixels/s
Multithreaded Test 3 / File Compression 4.07 MB/s
Multithreaded Test 3 / File Encryption 24.84 MB/s
Multithreaded Test 3 / HDD – Virus Scan 36.59 MB/s
Multithreaded Test 3 / Memory Latency – Random 16 MB 7.32 MAccesses/s
Video: Fujitsu T4215 Tablet PC InkShow
All GottaBeMobile.com InkShows are sponsored by:

As an Amazon Associate I earn from qualifying purchases.