Fujitsu T4220 Tablet PC announced from Fujitsu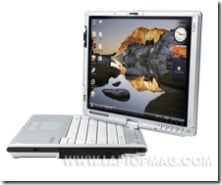 Just yesterday I posted about the new Santa Rosa T4220 from an FCC find. Today there is an official press release from Fujitsu. There are a few more details from the release, and a nice review from Laptop Magazine as well. I was kind of disappointed to read that the battery life for the unit was still something to be desired – Just over 2 hours playing a DVD… especially with the new chipset.
The LifeBook T4220 Tablet PC, a new edition of the highly popular ultra-light 4.3-pound thin and light convertible notebook, is designed for on-the-go mobile professionals who require the flexibility of a tablet for note-taking or navigating through forms-based applications, along with the traditional keyboard input of a notebook computer. The industry's lightest convertible Tablet PC with a modular bay is packed with a full complement of security features and the Fujitsu Shock Sensor hard drive protection system. It offers the market's first bi-directional display hinge, which turns the screen in both directions for added convenience.
To sum up the specs:
4.3 pounds

1.5 inches thick

12.1 inch screen (XGA and SXGA+)(Daylight readable screen option)

Bi-directional swivel

Fingerprint reader

5 Tablet buttons

3-1 reader

SmartCard and PC card slot

Missing – Firewire and S-Video

2.2 Core 2 Duo (FCC had a 2.4 Core 2 Duo)

800 MHz FSB

Built in Optical Drive

As an Amazon Associate I earn from qualifying purchases.