Future Destiny Missions & More Leaked in New Video
Bungie, makers of the Destiny first-person shooter turned online multiplayer game, has yet to reveal an official date for either of the game's two expansions, but we may already know what's included in them. The information about upcoming Destiny add-ons and DLC is thanks to a single YouTube user who was able to record video of Destiny maps not yet open to the public.
The video from YouTube user Kinsey_92 reveals a long list of feature additions that could make their way to Destiny over time. He was able to record the videos and get detailed information about these new regions and more thanks to the update that Bungie applied to Destiny late last week. That's the same patch that killed off access to the coveted loot cave that players had used to get their hands on rare items and equipment for their character.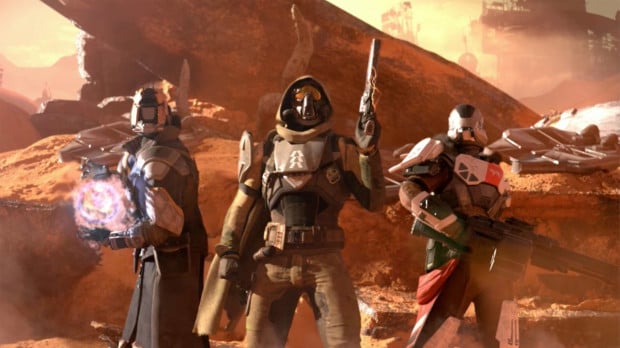 Read: Bungie Kills the Loot Cave in Destiny
Missions revealed in the video fall into either one of two categories. Hovering over some indicate that the requirements haven't been met for that particular mission. Another set indicate that purchasing an expansion pack is required before participating. Presumably, the latter is for buyers of the Destiny Expansion Pass that is now available at most major retailers and through the Xbox Store and PlayStation Network. The Destiny Expansion Pass costs uses $35, though presumably users will be able to pick up each expansion pass separately.
On Earth Destiny players can look forward to three new story missions rated for users at Level 18 and Level 20. A new Strike Mission will be available for players on Earth at level 10.
On the Moon users can look forward to two new strike missions at level 14 ad level 26. A new high-end raid called Corta's End will be available for players at level 28. Two new story missions on Venus will require users to be at level 20 and level 22. Mars will receive a new Strike mission for players at level 20. A new Raid called Reef will be available for players at Level 28. Finally, the Crucible will pick up Skirmish, though it's unclear whether it'll be a special event.
All told, it's pretty clear that Bungie has some wide-reaching plans to continue to add content to Destiny for some time. That should at least let dedicated players rest a bit easier. In recent days some players argued that there just wasn't as much content in the game as Bungie promised when it originally showed off concepts for Destiny. Whether that's accurate is debatable.
What is certain is that with Destiny Bungie has its first post-Halo hit on its hands. Since the game arrived on store shelves early in September, it's been the one high-profile game release folks have talked about in the last few years.
Destiny is really the only successful attempt at bringing online role-playing techniques from the PC to living room consoles like the Xbox One and PS4 in recent years. In Destiny, users play as a Guardian trying to uncover what brought humanity to its knees. In the game's story the human race has just one outpost left with a giant sphere protecting it. Users can team up with their friends for Raids or battle each other in multiplayer modes similar to capture the flag or just outright killing each other. Users can actually see each other in the game's social zones and form their own teams and squads. There's are even mobile apps for interacting with the game when not at home in front of a console.
Destiny is available on the Xbox 360, PS3, Xbox One and PS4 for $60 new. Used copies are available at GameStop for $54.99, which certainly isn't a huge discount. Users who are planning on buying the expansion pass anyway are better off purchasing a Digital Guardian Edition of Destiny for $89.99.

This article may contain affiliate links. Click here for more details.