Future iPhone Could Tell if You Have the Flu or Food Poisoning
Right now you're stuck with the WebMD for diagnosing your pains on the iPhone, but if you want to skip past the, "It must be cancer diagnosis", you'll be glad to know a team is working on turning your phone's touchscreen into a pocket-sized lab capable of differentiating between the flu, food poisoning and strep throat.
The idea won't be rolling out on the next iPhone or Android device, but if progress continues, you may be able to place a small sample of spit or other fluid on the iPhone to get a diagnosis.
This may sound like science fiction, but it is actively under testing by Hyun Gyu Park and Byoung Yeon Won, of the Korea Advanced Institute for Science and Technology, are already making progress.
The team has already been able to use a touchscreen to differentiate between different samples of Chlamydia using the same built-in sensors that make it possible to accurately slash your enemies in Infinity Blade 2 or type up a text on your iPhone.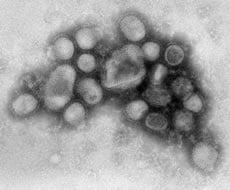 So far, the technology cannot identify individual pathogens, but Harpal Minhas, editor of Lab On a Chip tells New Scientist that, "This is potentially possible."
The concept still needs work to avoid false positives from sweat and gunk in your pockets, and the team is working on a film to put on your iPhone so that you aren't carrying around extra pathogens on your phone, but this could have a big effect on the health industry.
For people like myself, this type of technology could potentially save me a doctor's visit, or point me in the right direction for getting some over the counter medicine, but if you go global — the possibilities are amazing.
Imagine a phone like this in a city or village where there is no immediate access to medical facilities without significant travel. A phone like this could potentially save lives and money. Connectivity and power may be issues in these areas, but when combined with other efforts this could be huge.
To think, All I wanted last year was to FaceTime my doctor instead of going in for a checkup.
Image via CDC

This article may contain affiliate links. Click here for more details.