Futuristic Tool Kit For Reporters
Interesting looking setup here and I'm assuming it is only a concept but could be wrong. Newsware is a series of devices for reporters to collect their data. A camera shoots images or video, the Voice Stick records audio, and the NotePad collects and organizes that data plus all the notes you want to take. The NotePad is a double sided touch display and includes a soft keyboard. Via jkkmobile.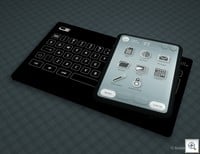 As an Amazon Associate I earn from qualifying purchases.