Gadget Stimulus Plan Day 2: Win a Lenovo IdeaPad S10 Netbook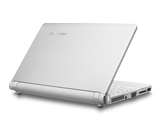 We're trying to close your gadget deficit while the economy's in the dumps with the Gadget Stimulus Plan. Today we're giving away a Lenovo IdeaPad S10.
This IdeaPad S10 comes with 1.6GHz Intel Atom processor, 512MB of RAM, 80GB hard drive and Windows XP. We recommend adding some more memory and a larger hard drive, which is very easy to do yourself.
There are three ways to enter, and yes you may enter up to three times.
1) Leave a comment on this article and tell us what applications and accessories you would use with the IdeaPad S10 to improve your mobile computing experience.
2) Comment on this Notebooks.com article and tell us if you (or who ever you're giving it to) will use the IdeaPad S10 as a primary or secondary computer.
3) Use your Twitter account to share this contest with your friends. Just send the following Tweet:
"I entered to win a Lenovo IdeaPad S10 from GBM and Notebooks.com's Gadget Stimulus Plan https://tinyurl.com/cfztvh #GadgetStimulus2"
You have until Sunday, March 22 at 8pm PDT to enter. We'll assign every entry a number and use Random.org to randomly draw a number.
This contest is open to United States and Canadian residents only, as long as participating in contests like this are legal in your home town. It's your responsibility to check local laws and regulations. Those who enter more times than allowed will be disqualified. The winner will be notified by either email (if random comment is chosen) or by an @reply on Twitter (if random tweet is chosen. He/she will have 48 hours to claim the prize and provide shipping info.

This article may contain affiliate links. Click here for more details.