Gadget Stimulus Plan Day 9: ATEN USB KVM Switch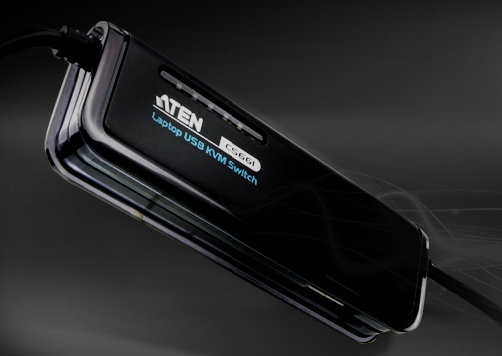 We're trying to close your gadget deficit while the economy's in the dumps with the Gadget Stimulus Plan. Today we're giving away an ATEN USB KVM Switch that makes it easy to control two PCs at once. Just plug each end of the KVM cable into each of your PC's USB ports and you can control both computers with a single keyboard and mouse. There's no software to download or install.
A KVM switch is useful for users who often switch between PCs or need to use two computers simultaneously.
The ATEN KVM USB Laptop Switch retails for $94.85 and is available at many online retailers, including Buy.com and NewEgg.com.
To learn more about this product and to see some ideas of how you can use it, visit ATEN.com.
There are three ways to enter to win this KVM switch, and you may enter once in each of the three ways.
1) Leave a comment on this article (below) and tell us how you'll use the ATEN KVM switch and why you want it.
2) Leave a comment on this Notebooks.com article and tell us which two notebooks, tablets or netbooks you'd use this KVM switch with if you could pick any two devices.
3) Go to Twitter.com and tweet the following:
""I entered to win a ATEN USB KVM Switch   from the Gadget Stimulus Plan https://tinyurl.com/c5fx68 #GadgetStimulus9"
You have until Sunday, March 29 at 8pm PDT to enter. We'll assign every entry a number and use Random.org to randomly draw a winner.
This contest is open to residents of the U.S. and Canda, as long as participating in contests like this are legal in your hometown. It's your responsibility to check local laws and regulations. Those who enter more times than allowed will be disqualified. The winner will be notified by either email (if random comment is chosen) or by an @reply on Twitter (if random tweet is chosen. He/she will have 48 hours to claim the prize and provide shipping info.

As an Amazon Associate I earn from qualifying purchases.