Gadget Stimulus Plan Day 11: Win Active Ink Software Professional Designer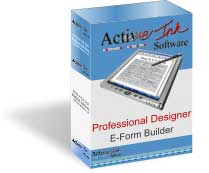 We're trying to close your gadget deficit while the economy is in the dumps with the Gadget Stimulus Plan. Today we're giving away a license for Active Ink Software's Professional Designer E-Form Builder valued at $299.
If you are looking for creative ways to implement cost savings in your business, then you need to look no further than Active Ink Software. Their e-form solutions   allows companies to easily design e-forms, deploy them, and then collect data in forms using a Tablet PC, Netbook, or notebook. It is as simple pressing the Print button within Word! The data can be saved to PDF or written to a number of databases like SQL Server or Access. For companies wanting to cut costs, implementing e-forms helps reduce paper costs, handling, rekeying labor, and time which all equates to saved money! Professional Designer supports ink, handwriting recognition, and traditional keyboard input – there is no need to go out and buy all new hardware! To learn more, watch our InkShow video on the Professional Designer below. To enter the contest, keep reading below the video.
There are three ways to enter to win Active Ink Software Professional Designer $299 license, and you may enter once in each of the three ways.
1) Leave a comment on this article and tell us what kind of forms you would design for your business and how that would help save your company money.
2) Leave a comment at this forum topic with your ideas on ways businesses could create some cost savings in this economy. Active Ink's Professional Form Designer is one smart way – what other ways can you think of?
3) Go to Twitter.com and tweet the following:
""I entered to win Active Ink Software's Professional Designer from the Gadget Stimulus Plan https://tinyurl.com/cbsk4j! #GadgetStimulus11"
You have until Friday, April 3 at 8pm PDT to enter. We'll assign every entry a number and use Random.org to randomly draw a winner.
This contest is open internationally, as long as participating in contests like this are legal in your country / state / city. It's your responsibility to check local laws and regulations. Those who enter more times than allowed will be disqualified. The winner will be notified by either email (if random comment is chosen) or by an @reply on Twitter (if random tweet is chosen. He/she will have 48 hours to claim the prize. A license key will be emailed and download link provided.

As an Amazon Associate I earn from qualifying purchases.