Gail Levy and the UMPC Is Dead Meme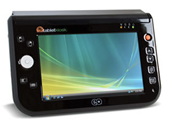 Gail Levy of TabletKiosk has an interesting post about the UMPC is Dead meme. Her point is a good one. UMPCs may in fact be well on their way out as a consumer device, but she still sees some life in the 7 inch Tablet PC form factor. From her perspective within TabletKiosk, they are still seeing growth in non-consumer sectors for the eo platform and TabletKiosk is looking to show off their latest line extensions at CES 2009.
I, for one, am glad to hear Gail's perspective on this because it is important both for the 7 inch screen size as well as for larger Tablet PCs. There is hope within the niche.

As an Amazon Associate I earn from qualifying purchases.