Galaxy Gear a Universal Flop for Samsung?
For a product that bears the futuristic space-age "Galaxy" brand of Samsung's coveted Android product lineup, the new Galaxy Gear smartwatch may be a huge universal flop. According to a report on Business Korea, Samsung may have sold as little as 50,000 Galaxy Gear watches since the device debuted in September, a far cry from the 40 million Galaxy S4 smartphones that sold in roughly six months since that device was launched.
Samsung had launched the Galaxy Gear to a lot of hype and anticipation as the company rushed to beat Apple's much rumored iWatch smartwatch to market.
READ: Samsung Galaxy Gear Review
Initially, the Galaxy Gear suffered from a few notable problems. One was its high price tag. The wearable wristwatch debuted with more features than any smartwatch before it, allowing customers to pair the device with a phone and make and receive voice calls, view notifications, command the watch with S Voice voice commands, and also take pictures with a camera embedded into the strap. However, those functionality added to a steep $300 price tag. A second problem is that at launch, the Gear was only compatible with the Galaxy Note 3 and the Galaxy Note 10.1 2014 Edition, though Samsung had expanded support to older Galaxy Android phones, but the Gear still isn't compatible with a wider range of Android devices from other manufacturers.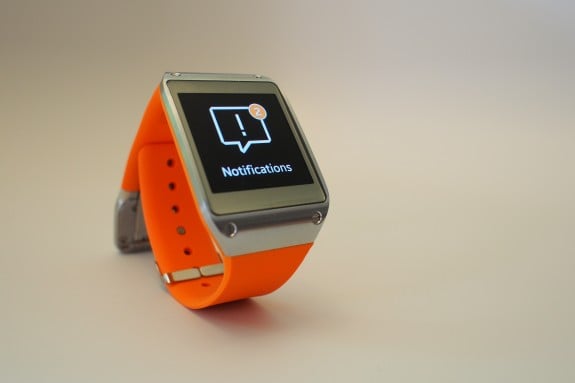 Another issue is that the wearable market is nascent, and customers may be unsure of how the technology may serve to simplify their lives. With the Galaxy Gear, though it may be easier to see notifications on the watch's display, it may be more cost effective to just pull the phone out of a pocket to see the notifications rather than deal with the watch.
Samsung's executive also went on the defensive surrounding the Galaxy Gear's slow market uptake.
At a recent Business Insider Ignition Conference, executive David Eun defended the Gear, saying that it is like "a small green tomato," referencing the fact that the market is not yet ripe for wearables.
"What we want to do is take care of them and work with them so they become big, red ripe tomatoes," Eun says. "And what you want to be sure of is that you don't pluck the green tomato too early and you want to make sure that you don't criticize a small green tomato for not being a big, red ripe tomato."
Earlier reports suggested that the Galaxy Gear may also be facing a high rate of return at Best Buy, a location where Samsung has its store-within-a-store concept. It was reported that Best Buy and Samsung retail employees are tasked with finding more about the Gear experience from customers in the event of a return to learn more.

As an Amazon Associate I earn from qualifying purchases.