Galaxy Nexus 4G LTE Speed Test: East Coast
Here in New York City we've been enjoying Verizon Wireless' speedy 4G LTE network for over a year and reaping the benefits of lightning fast mobile data on smartphones and the occasional tablet.
I've been testing the Samsung Galaxy Nexus on the network all day and have found it fairly speedy, though not as much as I would have guessed.
Like our testers in San Francisco and Ohio, I've seen some speeds at and  above the 5 – 12 Mbps the carrier promises, though not as consistently high as the folks in SF apparently get. My upload speeds are pretty consistently above the 2 – 5 Mbps promised.
The lowest scores above came from when I tested the phone while inside. The highest score occurred when I was standing by a window. I live on the upper edge of Manhattan and usually get a strong LTE signal, but not as strong as when I'm in midtiown, where I saw the fastest speeds and full bars.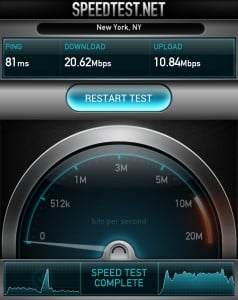 The Galaxy Nexus averaged 9.14 Mbps downloading, 9.74 Mbps uploading. I'm not sure why the upload speeds are so much faster than download. It's not this way with the HTC Thunderbolt or Rezound. And on average they aren't uploading or downloading as fast as the Galaxy nexus, though still at the high end of Verizon's promised speeds.
The speeds on display are great news for customers who need to use their phone as a mobile hotspot. You're going to see blazing speeds, and it looks like that's true across Verzon's network. If you're lucky enough to still get the unlimited data option you could even conceivably use the Nexus as your home Wi-Fi.
Stay tuned for a full review and check out our other Galaxy Nexus coverage in the meantime.

As an Amazon Associate I earn from qualifying purchases.