Galaxy Nexus: 4G LTE Speed Test (San Francisco)
The Galaxy Nexus runs on Verizon's 4G speedy LTE network, which in many cases is faster than consumers' home Internet connection. If you live in San Francisco and plan to pick up the Galaxy Nexus you're in luck. In our initial tests the Galaxy Nexus clocked in with download speeds of over 20 Mbps.
Verizon advertises its 4G LTE speeds as 5 to 12 Mbps for downloading data and 2 to 5 Mbps for uploading. This is a whole different ballgame than Verizon's 3G network, which maxes out at 1.4 Mbps down and .5 Mbps up. Your actual results will vary, as with all wireless networks, but your Android experience has a good chance of getting a boost if you live or work here in San Francisco.
I ran the Speedtest.net app immediately after purchasing a Galaxy Nexus from the Verizon kiosk at the Stownstown Galleria. As you can see in the video above, the Galaxy Nexus is able to upload and download data significantly faster than Verizon's advertised speeds. Below are the results of the three tests in the video.
16.81 Mbps down, 14.91 Mbps upload
19.59 Mbps download 13.56 upload
21.05 Mbps download 13 Mbps upload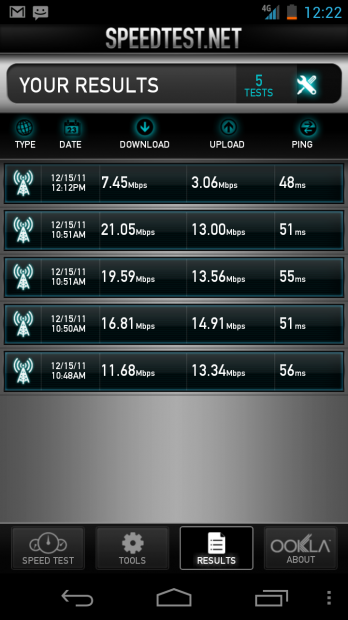 Things slowed down a bit when I returned to my home, which is high up on a San Francisco hill. But Verizon 4G LTE is still so fast that it's not necessary to connect the Galaxy Nexus to my WiFi network. Download speeds so far range between 7.45 Mbps and 9.69 Mbps, while upload speeds are more erratic, ranging from 3.06 Mbps to 11.98 Mbps.
The Galaxy Nexus will be replacing my Droid Bionic, which replaced my HTC Thunderbolt.  While I use an iPhone 4S on AT&T's 3G network as my everyday phone, you can see why it makes sense to use a Verizon 4G LTE phone like the Galaxy Nexus for certain tasks. I will be using the Galaxy Nexus as my mobile hotspot and other data-intensive tasks, such as watching football games on the go via NFL mobile and Slingbox. Thankfully I'm grandfathered into Verizon's unlimited data plan, which is no longer being offered. While I'm usually not a mobile data hog, I really do enjoy having the freedom to eat up as much bandwidth as I like.
In our iPhone 4S speed tests we saw AT&T blow away Verizon's 3G network. But 4G is a whole different ballgame and Apple hasn't showed up to it yet.
You can see the results of our Galaxy Nexus Verizon 4G LTE test from Ohio here.
Stay tuned for more Galaxy Nexus news and reviews.