Galaxy Nexus Available in Play Store Again With Shipping Delays
It looks like with Samsung's victory on gaining a temporary stay on the Galaxy Nexus injunction pending Apple's response in that lawsuit, the Google-branded Android smartphone is once again available in the U.S. in Google's Play Store. This would be the unlocked GSM/HSPA+ model that would work on carriers T-Mobile USA and AT&T in the U.S.; Sprint and Verizon are selling their own CDMA/LTE models through their channels.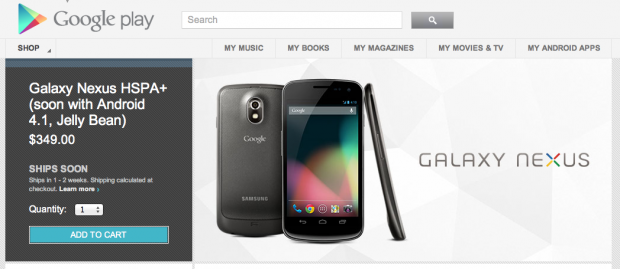 The device, along with the Samsung Galaxy Tab 10.1, was recently pulled from sales in the U.S. as a result of Apple winning a lawsuit. Google had subsequently responded by saying that it had developed a workaround and that the Galaxy Nexus should be available once again soon. The reason for the ban is that the court sided with Apple in viewing that the Galaxy Nexus had infringed on Apple's search patents.
Now, it looks like if you order the Galaxy Nexus through the Play Store, delivery for the device would be in one to two weeks. The Galaxy Nexus saw a recent price drop along with a software update recently late last month at Google I/O. Google had announced at its developer conference the Android 4.1 Jelly Bean operating system for the Galaxy Nexus as well as a new $349 price for the dual-core smartphone with 720p HD display contract-free and unlocked so you can take it any GSM provider you choose.
To order the Galaxy Nexus today, visit the Google Play Store. The device will ship with Jelly Bean out of the box.