Galaxy Nexus Buyer's Guide: Where to Get the Galaxy Nexus for $155
The Galaxy Nexus has finally launched on Verizon Wireless after a long wait. This new flagship phone can now be purchased online and in stores, but if you want to find the best deals, you should explore purchasing the phone from a third-party seller.
We've rounded up the best places to buy the Galaxy Nexus with 4G LTE for new and existing customers. While new to Verizon customers will be able to get the best deals, there are some deals to be found for customers upgrading from an existing Verizon phone.
Read: 5 Things to Do When You Get Your Galaxy Nexus [Setup and Security]
The Galaxy Nexus is $299 at Verizon with a new two-year contract, and $649 without a contract, but you can find better deals online. The price in parenthesis below is the price for existing customers.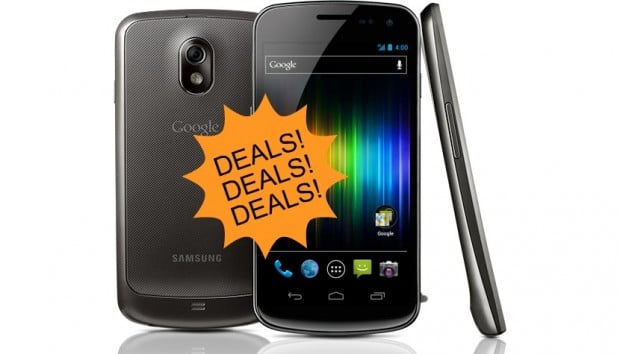 LetsTalk – $155 ($175)
LetsTalk has the best deal on the Galaxy Nexus for Verizon that we have seen. You can get the just released Galaxy Nexus for $154.99 with free overnight shipping and a two-year contract. No extra hoops to jump through or mail in rebates required.
If you are an existing customer, you can also score an amazing deal, paying just $174.99 for the Galaxy Nexus if you are upgrading your primary line. This is a big deal because most of the deals will only be good for new customers.
To get this deal, visit LetsTalk.com and use the coupon code $75VZN at checkout.
Amazon Wireless – $199 ($249)
Amazon offers up another tempting deal on the Galaxy Nexus, with a sticker price of $199 for new to Verizon customers and $249.99 for existing customers who are eligible for an upgrade.
The only downside to this offer is that you'll need to wait at least a week to get your phone, but you do get free 2-day shipping.
To get this deal, visit Amazon. No coupon code is required.
Wirefly – $219 ($249)
Wirefly is a favorite place for many shoppers to score a great deal, and the Galaxy Nexus is no different. You can pick up the phone for $219 if you are a new customer to Verizon, and for existing customers you can get the Galaxy Nexus for $249 with a two-year contract.
The deal includes free standard shipping, and it will take 2-3 days to ship.
To get this deal, visit Wirefly. No coupon code is required.
Costco – $290 with Bundle
If you are a Costco member, you can get the Galaxy Nexus for $289 and score some free accessories, including a screen protector, case and car charger. This deal is good for new and upgrading customers.
Unfortunately CostCo online is out of stock, and the accessory bundle isn't too attractive, so you would be better off looking elsewhere.
To get this deal visit your local CostCo. You must be a member.
Best Buy – $299 with Free Headphones
Best Buy is offering the Galaxy Nexus for $299 for new and upgrading customers, and is including a bonus "stocking stuffer".
When you purchase the Galaxy Nexus on Verizon at Best Buy, you will be able to choose from six different colored pairs of iFrogz EarPollution Luxe Headphones and Microphone.
This is an OK deal, which is better if you can earn RewardZone points.
To get this deal, visit Best Buy. No coupon code is required.
—
Did you get a Galaxy Nexus today? If so, what did you pay?