Galaxy Note 12.2 Could Beat Bigger iPad to Release
Recently we've heard reports that Samsung is preparing to manufacture and release a tablet larger than anything else it currently offers. It's being reported that a 12.2-inch tablet is in the works with a 2560 x 1600 resolution, and that after Google turned it down to focus on its Nexus 7 Samsung continued on anyways. Not only that, but we've heard similar reports of a 12-inch iPad in development too.
We've heard talks of a 12.2-inch Samsung tablet as far back as early June, followed by an odd bluetooth certification in September. All hinting towards a Note 12.2 tablet arriving sometime this holiday season. And now this week more reports from Digitimes claim it could have been a Nexus, but will instead join the Galaxy Note lineup and compete with Apple's larger iPad.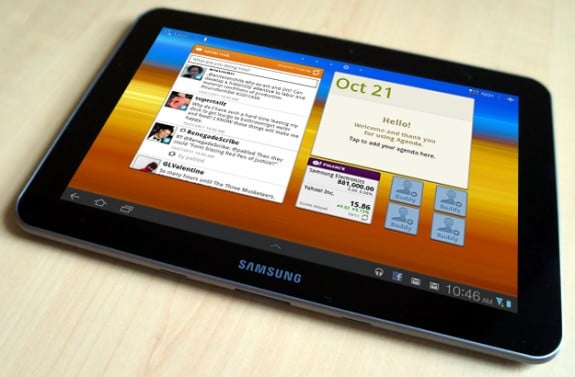 DigiTimes, a popular site that often has details regarding device supply and demand, reportedly has the inside scoop. High up in the supply chain sources claim Samsung was working on a 12-inch Nexus tablet, but Google eventually decided not to follow up the Nexus 10 with another larger device, and instead focused efforts on the Nexus 7.
Add that to the fact that recent rumors suggest the Nexus 10 will actually be manufactured this time around by ASUS, and this starts to make sense. Once denied the Nexus job by Google Samsung decided to go ahead with development on the 12.2-inch slate on their own, and intend to launch the massive tablet under the Galaxy Tab or Note series.
The sources didn't give any indication as to when this device would actually become a mainstream product, but feels confident enough to state a 12.2-inch Samsung tablet is coming soon. Not only that, but it sounds like Samsung and its 12.2-inch device could actually beat Apple to the tablet market in this bigger size range.
Given the Bluetooth certification from mid-September we could be looking at a holiday release date, or Samsung might wait until next year and launch a new slate with their Galaxy S5 and Android 4.4 KitKat on board. Don't forget the new iPad 5 is coming soon, but it won't be the 12-inch model we're hearing about as of late. That will have to wait until next year.

This article may contain affiliate links. Click here for more details.