LeBron James Highlights Galaxy Note 3 Smartphone Features
The holiday season is here and that means the tech and gadget commercials will be out in full force. With Microsoft taking the attack approach, calling out the competition, others are simply showing off what they have to offer. Many will be sitting around the dinner table with friends and family, enjoying some Turkey dinner watching Thursday Night Football and TV commercials, and Samsung's Galaxy Note 3 ad spot will probably catch your attention.
Samsung's latest Galaxy Note 3 and Galaxy Gear commercials featuring the NBA MVP and Champion LeBron James from the Miami Heat is one worth mentioning. Showing off the company's latest technology and smartphone, and what it has to offer, rather than just calling out the competition. If you or the family is wondering what that LeBron James phone and watch is you just saw, we have all the details on the new Galaxy Note 3 smartphone and Galaxy Gear below.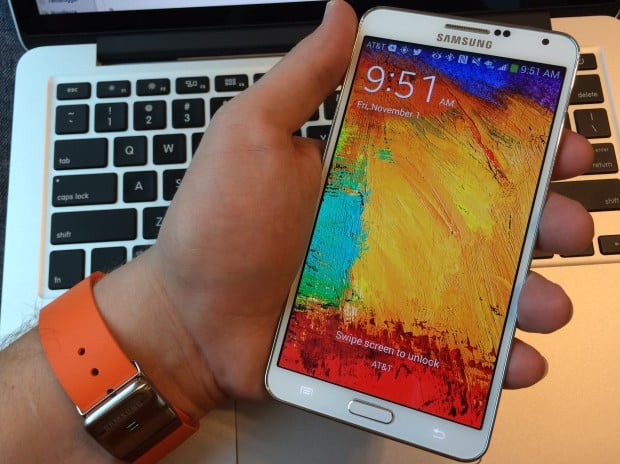 Employing LeBron James to show off and highlight "The Next Big Thing" which is already here, the Samsung Galaxy Note 3 and Galaxy Gear Smartwatch have a lot to offer. The smartphone is as top-tier as they come in the mobile market, has a brilliant 5.7-inch full HD 1080p display, and even a stylus to create content, not just consume YouTube videos and Instagram pictures. Samsung does a great job showing what it has to offer in the few videos below.
https://www.youtube.com/watch?v=Fhee5Lm4ysg
This quick video highlights the full 5.7-inch display of the Samsung Galaxy Note 3 smartphone, which is available on all major US carriers. Teasing the camera and stylus features, not to mention viewing content with ease and even drawing on the screen to take notes, or even draw up a Pick-n-roll play. The next video is the full 2 minute ad spot, for those curious to see more.
https://www.youtube.com/watch?v=JYgm8tzVIS4
Titled "Always on" this commercial shares everything that is excellent about the Samsung Galaxy Note 3 smartphone and companion Galaxy Gear watch. Being always on, always connected you'll never miss a moment. Whether that's video chat with friends and family, incoming calls on your smartwatch while your phone is in the gym bag, and of course using all the features of the Samsung Galaxy Note 3. What all can it do you ask? We'll tell you!
Read: 25 Hidden Galaxy Note 3 Features
The Samsung Galaxy Note 3 is an extremely powerful and capable smartphone. Whether you'd like to game on a brilliant 5.7-inch display, takes notes for school or work, or even prepare a slideshow and presentation — it does it all.
Specs
With a 5.7-inch 1920 x 1080p full HD AMOLED display, a powerful 2.3 GHz quad-core Snapdragon 800 processor with 3GB of RAM, 32GB of storage, and a huge removable battery. Add in a 13 megapixel camera and the built-in stylus this is both a content creation — and a content consumption device. Above is 25 hidden and powerful features that will make the device worth your dollar, and if you'd like to learn more after reading that check our our full Galaxy Note 3 Review. It's Samsung's most powerful phone, and here's why.
Features
One of the key selling points is obviously the massive and bright 5.7-inch HD display, but one other important aspect of this device is the S-Pen stylus. Shown off in all of the videos above, the Galaxy Note 3 employs a different display than most smartphones. Allowing for a touch-sensitive experience like none other for precision. Whether that be for writing, drawing, taking notes and more. The stylus is a powerful tool that once removed opens an instant quick menu for S-Pen specific apps.
From here you can jot down a note, create an e-card or presentation, or anything else you'd imagine. It's for more than just drawing on the screen. Cropping the screen, saving snippets from emails and calendar entries, the Galaxy Note 3 keeps you always on, and always connected like never before.
The 13 megapixel camera has a slew of features such as burst mode, quick shot, and drama shot, and eraser mode. Remove those unwanted photo-bombers, capture drama in a photo with multiple shots in one, or even add audio (up to 9 seconds) to a photo to truly capture the moment.
We could go on and on regarding features and impressions tools this device is packed with, but the video review and hidden features linked to above should tell you all you need to know. So where can you get one, and for how much?
Price & Availability
The Samsung Galaxy Note 3 is available from all major US carriers. Both in stores and online. With top-tier features and that faux-leather design on back, cutting edge specs and more it certainly won't come cheap, but you have plenty of options. The Note 3 is available from all carriers starting at $299 with a new 2-year contract. It's more than most, but you're getting more than most smartphones have to offer. It's $299 from AT&T or $35 a month for 20 months. Verizon has the same pricing or $29 a month for 24 months with Verizon Edge, or even from T-Mobile for $21 a month after a $199 down payment.
The Galaxy Note 3 comes in black or white, with 32GB of internal storage, and a 3,200 mAh battery that should keep that huge and impressive screen powered on for days. Here's one more look at the device with another stunning commercial by Samsung.
https://www.youtube.com/watch?v=LXP1TcAGsag
Should You Buy It?
The Galaxy Note 3 is by far one of the best smartphones available on the planet. It's big, full HD, powerful, runs Android 4.3 Jelly Bean, and has almost more features than any other device available today. That said, it's a big device. Using LeBron James works great, as that 5.7-inch device doesn't look quite so big in his massive hands. We'd recommend most users try it out in a store nearby before pulling the trigger.
Read: Samsung Galaxy Gear Review
There's no reason not to snag the new Galaxy Note 3. It is as well rounded as they come, and will work wonderfully with the Samsung Galaxy Gear smartwatch shown in the videos as well, which will run you another $299 if you'd like that addition. Happy Holidays!

This article may contain affiliate links. Click here for more details.