Galaxy Note 3 Review: Samsung's Most Powerful Phone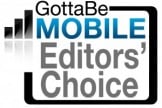 Though the Galaxy Note 3 might sound like an iterative evolution of the phablet line, it's a design revolution for Samsung's design team. In the past, Samsung had been caught with sacrificing premium design to accommodate power features–such as including the option for a removable battery and giving users the flexibility of adding storage–but it appears that Samsung's designers have overcome this catch 22 despite the continued use of plastic thanks to new material selections, such as stitched leather, and angular lines that lend to a more premium feeling.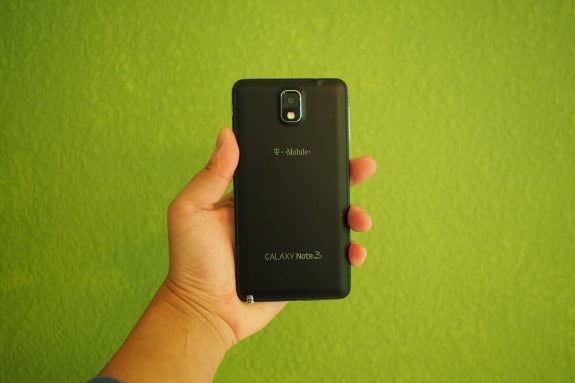 Often overshadowed by its flagship Galaxy S release, this time is different as the Galaxy Note 3 packs the most powerful punch of any Samsung smartphone. The Note 3 continues to impress with the line's hallmarked features–large yet still pocketable display size, active digitizing S Pen to capture "Notes" on a whim, and powerful specs that translate into a fast and furious real world experience.
This year Samsung is pulling out all the stops to compete against a crowded lineup of flag flagships, including a new design, impressive hardware, and retooled software, but can the Note 3 hold its own ground against Apple's iPhone 5s, HTC's One, Sony's Xperia Z1, and LG's G2? Read on to find out.
Design
Gone are the subtle curved lines of last year's aesthetics. With the Note 3, Samsung is introducing a new design that's more angular with straight lines and subtly rounded corners. It's a refined design that's elegant and classy while at the same time modern. In fact, it feels a step above the Galaxy S4 even.
When you compare the Note 2 to the Note 3, you'll immediately notice that the new model is slimmer, lighter, and more narrow despite housing a larger display.
When you pick up the phone, the warm feel–thanks to the stitched faux leather backing–is inviting in a way that cold metal isn't. It's a nice choice that's posh without showing the cheesy bling a la Apple's gold-toned iPhone 5s.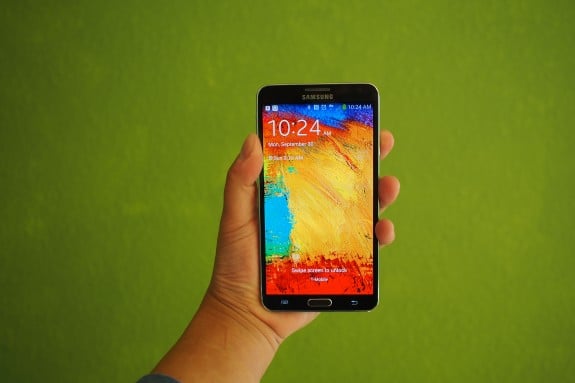 Couple that with with a vibrant 5.7-inch Full HD (FHD) Super AMOLED display, powerful S Pen capabilities, and best-in-class specs and you have an experience that's unrivaled. And that's just looking at the surface of the Galaxy Note 3–there's plenty more power under the hood.
Performance
The Note 3 is a multitasking powerhouse that can handle most tasks you throw at it with aplomb. Thanks to a fast quad-core Snapdragon 800 flagship processor from Qualcomm in the U.S. model that we're reviewing, coupled with 3 GB of RAM, you can multitask and run applications simultaneously without any slow downs.
There are some caveats though. While the first class specs of the phone could handle many tasks fluidly, a tiny number of third-party apps still struggled despite the ample horsepower that Samsung is packing. I am not sure if at this time it's due to the apps needing to be updated, or if this situation will continue to be a fact of life for Note 3 owners. Regardless, there were only a few apps, like Navigon, that ran in the slow lane and most apps that I had tested worked fine.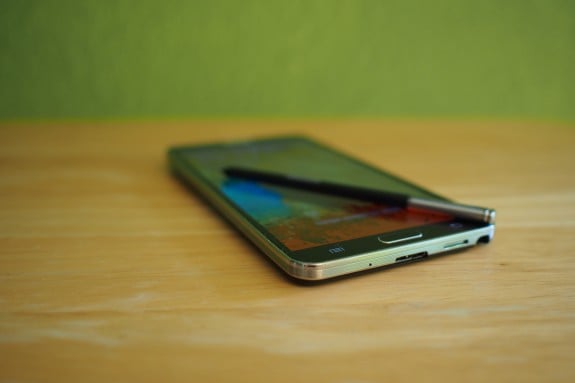 In terms of storage, Samsung isn't skimping here. With a full HD resolution display to enable you to record and purchase HD videos, a 13-megapixel camera to capture detail-rich photos, and a video camera that's capable of 4K video recording, Samsung knows that storage will be valuable on this pocket-sized computer.
The Note 3 now ships with 32 GB of storage, double of last year's base model, and unlike HTC's and Apple's models, you can also add more storage under the rear cover–up to 64 GB with a micro SDXC card.
Software
The Note 3 is powered by Google's Android 4.3 operating system, but owners will likely not even notice Android as the UI is heavily skinned by Samsung's TouchWiz interface. Though some would prefer a vanilla edition of Android, TouchWiz does bring to life the Note's hallmarked feature–the S Pen. This time around, Samsung has enhanced the role of the pen within TouchWiz and there is more to do with the plastic stylus. Still, there is much to both love and hate about TouchWiz.
The downside of the Note 3's software is precisely the fact that it's powered by Android 4.3. Earlier in the same week that Samsung had announced the Note 3 at its event in Europe, Google upstaged its biggest partner by announcing Android 4.4 KitKat. And though we don't still know what new features KitKat will usher in nor is KitKat available just yet, we do know that in a short time, Samsung's most powerful flagship will become dated when Google officially launches Android 4.4. This isn't Samsung's fault, but a sad reality of the Android ecosystem as Google doesn't always work in tandem with its partners release cycles.
Still, there are still certain aspects of TouchWiz where the software is clearly lagging behind the hardware. The home screen, for instance, cannot rotate to landscape mode though rotation is enabled in many apps. Second, icons seem overly exaggerated on the Note 3's nearly 6 inches of display space. The Note 3 can't fit any more icon on its high resolution display than the Note 1 or Galaxy S4, which is a shame considering there are so many more pixels and the screen is so much bigger.
And though there is plenty of pre-installed app (read: bloatware) from Samsung and the carrier on the Note 3, Samsung has done a good job of grouping them together so you're not flipping through pages of installed apps. In addition to the standard main apps, many of the extras are grouped into folders. There are three folders–a Galaxy Plus folder for Samsung extras that add value to the experience, a Google folder for your Gmail and Chrome apps, a Samsung folder for all the "S" product apps. It may be confusing to find out where the apps are, and you can ungroup the folders so you don't have to remember which app is where, or you can call up the new S Finder universal search tool, which we'll detail later.
S Pen Features
In addition to being able to draw, diagram, and doodle your handwritten notes in the S Note app, Samsung is now bringing additional functionality to the plastic stylus that's powered by partner Wacom's digitizing technology.
For starters, the S Pen now works on the two capacitive Android navigation buttons on the bottom of the phone, like on the Note 8 launched earlier this summer, so you don't have to switch between pen and finger like you did on the last generation. And also, when you pull the S Pen out of its silo, you get some new features through a radial menu called Air Command.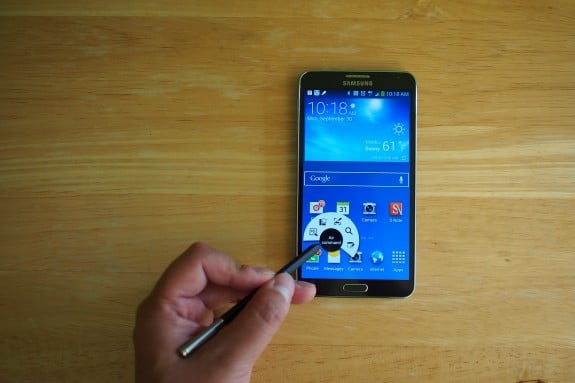 Air Command can also be accessed by hovering your S Pen on top of the display without touching or tapping on the screen, and clicking in the side S Button on the pen. There are 5 key functions that are accessible:
Action Memo: Action Memo is the new S Memo. Essentially, it's a post-it for your Note's display, and rather than being just static notes, you can link specific actions to those notes. For instance, if you jot down a phone number, you can have Action Memo decipher your handwriting and dial the number when you click in the memo. Other actions include saving information to a contact, emailing someone, opening up a web page, or locating an address in Google Maps. 

Scrapbooker: This is one of my favorite new features. Scrapbooker allows you to clip photos, text, and videos and save it to a the Scrapbook app.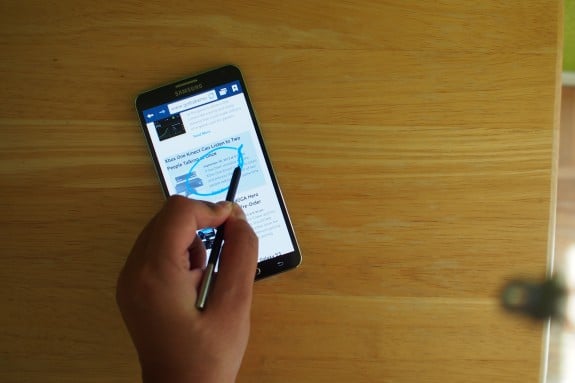 If you clipped a YouTube video, for example, a photo preview will appear in your Scrapbook app and you can access the video through embedded hyperlinks. Similarly, if you clipped a webpage, you can also hyperlink to the full page for more context. You can add tags to sort your clips, create additional Scrapbook files, or even add handwritten memo or text to annotate your content. It's a lot faster and quicker than importing things into S Note or One Note, and it's a nice way to grab content when you're doing research. Think of it as a Pinterest for your personal Note 3.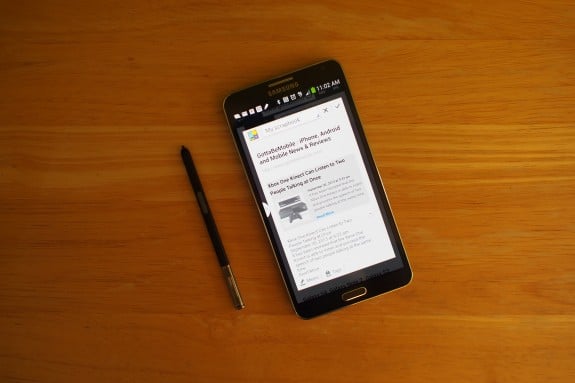 Screen Write: Screen Write essentially takes a screenshot quickly of any screen and brings up the S Pen writing tools so you can write on your screen shot, draw, or mark up things that are important. If you're reading a document inside Google Drive, you can do a quick Screen Write and add your notes for any corrections or changes using your handwriting.
S Finder: Thanks to the barrage of content you're able to save, clip, draw, and annotate, S Finder serves as a universal search tool that scans your phone's content, including things created with the S Pen. S Finder will search your apps, contacts, messages, Action Memo, Scrapbook, and other content, and you can do basic filters to refine your search results.
Pen Window: While the Note 2 introduced the Multi Window View for excellent multitasking, Pen Window adds another layer of multitasking.
My Magazine
My Magazine is a new Flipboard extension that works in the same way as HTC's new BlinkFeed in that it aggregates your news, social media feeds, and collected Scrapbooks, photos, and text messages into one location. As its name implies, My Magazine utilizes a graphics-heavy magazine-style layout a la Flipboard.
You can access My Magazine by either swiping up from the bottom of the home screen, or when you're on the main home screen by hitting the home button again.
And while My Magazine is similar to Flipboard–in fact it's also made by Flipboard–there are nuanced differences that are confusing. For one, while Flipboard does integrate Facebook feeds into its social layout, the Social section of My Magazine does not even though the latter supports a plethora of social networks. My Magazine does include a Here and Now local page to give you the latest news and deals of what's happening around you, which is nice.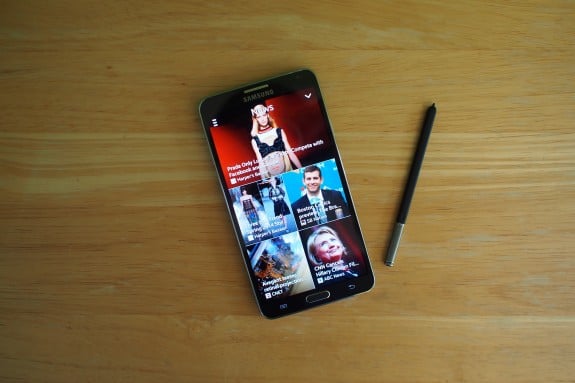 In reality, it's more of a confusing experience to have both apps preloaded on the Note 3. And even though My Magazine is rich in graphics and features, I do find myself missing the UI of BlinkFeed when I am using it as BlinkFeed appears more subtle with its black background and content is aggregated into one long scroll-able feed whereas sections on My Magazine requires both vertical scrolling and horizontal flipping to get across categories of content. It's a more organized approach, but if I want a quick glance of my "everything," I'd rather have it all integrated. If I wanted a bento box-like approach, I could open the main Flipboard app for that.
The Power of Voice
Thanks to the Snapdragon 800 processor on-board, the Note 3 will always be listening to you even if the screen is off. It's a feature similar to what Motorola had done with the Moto X, but rather than integrate Google Now into the Note, Samsung makes use of its own S Voice app.
S Voice is a voice command service that's powered by Samsung that provides some overlap between the Samsung service and Google Now. S Voice offers better localized search on the phone though Google's voice assistant does a better job of web searches. Additionally, I found the recognition of my voice to be better with Google's service whereas S Voice was generally a hit or miss.
When the display is off, you can wake up the Note 3 by invoking a command like "Hi Galaxy" and the phone will turn on and ask for your command.
You can also launch Google Now as well through S Voice by saying "Open Google Now." This will allow you to open Google Now without having to tap anywhere on the screen.
And while the Note 3 will awaken from hibernation with the command of your voice, the downside is that you can't call up S Voice with just your voice when the phone is already on. This is unfortunate as the always-on voice capabilities could be put to better use if you use the Note 3 as a navigation companion when mounted inside a car. It'd be far more useful if while in the middle of Google Maps Navigation on a long road trip I can command the Note 3 to "Launch Pandora" with my voice, but alas I would have to reach towards the large screen and make a few taps with my finger.
Battery Life
To power the monster display and powerful Snapdragon 800 processor, Samsung has equipped the Note 3 with a capacious 3200 mAh battery. In moderate daily use, I was able to go for over a day without recharging, though heavy users will likely want to plug in nightly. With USB 3.0 plugged into the wall, you won't notice any difference in charging speeds, but when connected to a laptop or PC with a USB 3.0 port, the phone does charge quicker and data transfers are zippy.
And while the port is now widened on the Galaxy Note 3 to accommodate the elongated micro USB 3.0 port, it's still backward compatible with existing micro USB cables for those upgrading from a modern era smartphone. An included micro USB 3.0 cable is included, but you can also recycle existing micro USB 2.0 laying around the house for use on the Note 3.
Curiously, though, while the Galaxy Note 10.1 2014 Edition launched alongside the Note 3, the micro USB 3.0 feature didn't make it to the larger tablet which is a huge omission considering the even larger battery of the Note 10.1 could benefit from speedy charging times.
Network, Call Quality, and Data Speeds
The Galaxy Note 3 that we were issued for review from Samsung is made for T-Mobile's network in the U.S. The only visible branding from T-Mobile on the hardware side is the logo that's imprinted on the faux leather back cover on the rear. The front is devoid of any carrier branding.
On T-Mobile's 4G LTE network, data speeds were zippy and the phone was fast with download speeds hovering between 7 and 20 Mbps on our speedtests. Uplinks were equally zippy with 2-4 Mbps bursts. On HSPA+, users will likely not feel a hit on speeds, except there is slightly more latency and the slightly diminished speeds mean that some HD video content will take moments to buffer on HSPA+. Still, a respectable 2-7 Mbps download and 1-2 Mbps upload speeds were accomplished on the slower 4G protocol.
Voice calling was sharp and crisp, both over T-Mobile's GSM network as well as on WiFi. T-Mobile is one of the few carriers that allow you to connect your phone to a standard WiFi-enabled home router to make calls over WiFi. The advantage here is that if you have spotty coverage in some portions of your house, you can hop onto WiFi and get much improved "reception" as a result of the Note 3 switching to a VoIP solution. This is done seamlessly, and the person you're calling will still see your T-Mobile number on their caller ID system.
Thanks to the newly re-positioned loud speaker to the bottom of the phone, sound fidelity and volume is much clearer and louder on the Note 3 than on the Note 2 with minimum distortion at even the highest volumes.
Multitasking & Other Software
The Galaxy Note 3 is equipped with all the features and sensors that were introduced on the Galaxy S4.
If you don't have experience with that phone, I would recommend reading our review where we cover some of the smart features of the phone, like automatically pausing video playback when you're looking away from the screen, hovering your hand over the screen to scroll through a long webpage, or holding the phone up to your ear when you're in a contact file to automatically make a call.
Additionally, it also has powerful multitasking capabilities borrowed from last year's Note 2 as well. And when coupled with this year's new S Pen features, you have simultaneous multitasking on steroids where you can open windows on top of windows of apps.
Camera
The 13-megapixel camera on the Note 3 is similar in performance to the 13-megapixel camera on the Galaxy S4 launched earlier this year in the spring. Though the camera can capture highly detailed photos when used for stills photography in good lighting, the small sensor size of the Galaxy Note 3's shooter means that dynamic range is poor. In conditions with difficult lighting, you'll find that details are lost in shadows and highlights.
What's unfortunate is that while Smasung's other rivals are experimenting with new camera technologies that provide benefits to low light photography, stabilized videos, and better dynamic range, Samsung has not improved the camera since the Galaxy S4 launched this spring. You won't find a larger sensor, optical image stabilization, or better low light capabilities.
To compensate, Samsung is including in the LTE version the ability to record videos with up to 4K, or UHD, resolution. While this is great, consumers will be well advised to stick to regular full HD 1080p videos as there aren't very many monitors, UHD 4K TVs, or computers that can display the higher resolution pixel for pixel. As such, using 1080p will save on storage space and will give you pixel for pixel clarity when playing back videos both on the Note 3's FHD sAMOLED display and on a 1080p HDTV at home.
Camera Image Samples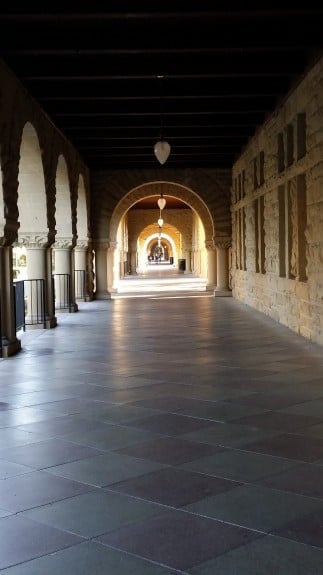 Video Sample(1080p)
Conclusion
The biggest change with the Galaxy Note 3 is that it is now no longer frustrating to write with the S Pen on a small screen. Unlike writing in a smaller Moleskine journal, my scribbles on the Note phablet line in the past took up a lot of screen real estate.
On this year's model, Samsung had cleverly tweaked the UI. It's a subtle change that's not obvious to users who are new to the phablet but truly does make a world of a difference when you're relying on a 5.7-inch display, a digitizing pen, and your scribbles to get through the day. S Note's subtle changes make the note-taking app that much better so that you can now focus on your writing and drawing and the interface and technology do not get in the way. Additionally, the new Air Command menu brings new functionality to the S Pen that makes it a lot more intuitive.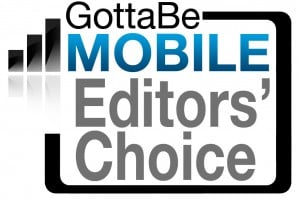 As these new features lead to a dramatically better experience when taking notes and using the S Pen on the phablet's display, which is smaller than the tablet, the Galaxy Note 3 is awarded our Editors' Choice award.
If you're a Note 1 and even a Note 2 user, the Galaxy Note 3 is a definitely a worthy upgrade. A 1080p display and a bump of 0.2 inches in screen real estate may not seem like much–and they aren't–it's the intelligent software that matters and the S Pen really delivers a stellar experience.
Still, the Galaxy Note 3 isn't without flaws. However, given the line's devoted following, the subtle under the hood improvements and new design should be welcomed by upgraders.
Even if you don't use the S Pen, the improved multitasking capabilities of this phone with its new design language really puts the Note 3 on the short list of devices to consider when you're looking at an upgrade. The Note 3 is Samsung's best and most powerful smartphone to date wrapped in a luxurious package with a gorgeous display with best-in-class specs.